U Bolt Clamp: Everything You Need to Know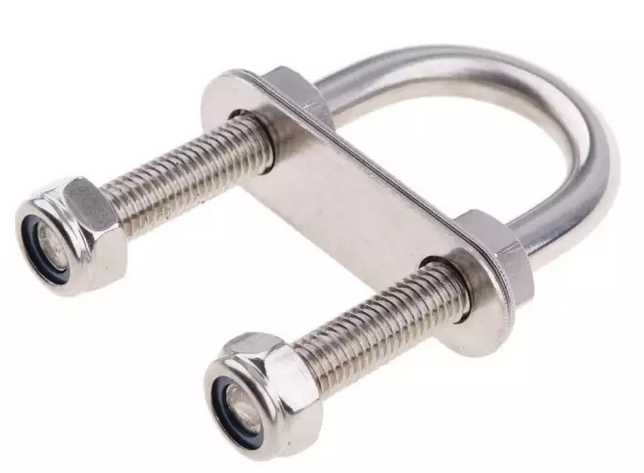 It is quick and easy to attach a variety of diameters and types of pipelines with U-bolts with metric threads. U bolt clamps are used to hold steel cantilevers or hollow profiles in place. The U-bolt clamp for pipes may seem straightforward. In the end, they are only bends in steel, aren't they? The simple U-bolt clamp can make the difference between a solid structure and an on-site disaster.
Despite these important restraints, it is easy to overlook them, but we are here to deliver the must-know information. There are only a few things to be said about these small workhorses.
The following article explains how U-bolts work and how they make a difference.
What Is an U-Bolt Clamp?
The basic idea of a U-bolt is that it is a bolt that has been bent into the shape of a U. It is a curved bolt that has two threads on its ends. Due to its curved shape, the bolt fits easily around pipes or tubing. Generally, U-bolts can secure tubes or piping to a support as well as act as a restraint.
When to Use an U-Bolt Clamp?
When it comes to construction, U-bolts can do it all. They can be used for a variety of applications, but they are particularly useful for piping solutions. In piping, they're commonly used as follows:
Tube and pipe restraint can be achieved with U-bolt clamps. As a result, the pipes don't move around, bang into other structures, or wear out. Nevertheless, restraint goes beyond just pinning the pipes down. When a pipe is simply held in place, pressure can concentrate at the most critical points, leading to corrosion. In this position, the U-bolt clamp for the pipe can control movement without concentrating vibrations.
When shipping pipe hanger clamps may also prove useful for keeping them secure. By adding a buffer between the pipes and other metals, the U-bolt clamps can prevent the pipes from jumping and breaking.
A major U bolt use is to hang pipes. Incorrect installation can cause corrosion and falling objects, since gravity can be very hard on piping. A U-bolt can be used to secure pipes and to limit vibrations by fixing them to an overhead structure.
Types of U Bolts
There are all kinds of materials that can be used for U-bolts. Yet they are typically made of noncorrosive metals that are durable. U-bolts are composed of the following materials:
Plain carbon steel
304 and 316 stainless steel
In addition to these elements, manufacturers may apply protective coatings. Even more corrosion protection is provided by these finishes. U-bolt clamps are commonly coated with the following:
Electroplating adds zinc to metal by coating it with electricity. Generally, indoor applications will require a thin layer.
A deeper coating is offered by hot-dip galvanization because it adds zinc. To create the bond, manufacturers dip bolts in molten zinc, making the coating especially useful in environments that are highly corrosive, such as in coastal areas.
Fluoropolymer coatings consist of a mixture of corrosion-resistant elements. Cold and heat can be absorbed by the coating without cracking.
Despite varying sizes, U-bolts are usually matched to the pipes they are meant to secure. The diameter of bolts can range from a quarter inch to a full inch. Pipes as wide as 30 inches can be held on these clamps. Make sure the space between the U-bolt and the nut matches its specification if you intend to use it as a guide. U Bolt clamps can be of great help if you want to secure the pipe  to utmost perfection.
Different Keg Coupler Types: How to Pick the Right One?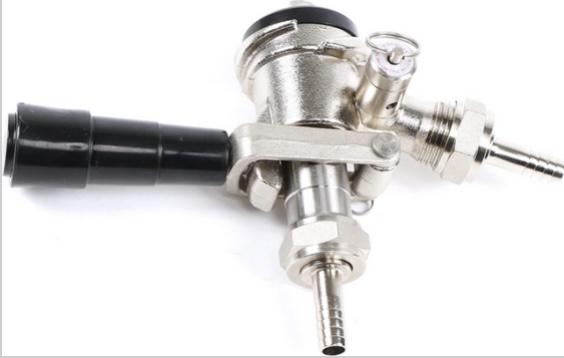 Keg Coupler is one of the most important components of the draft beer system. It is designed to be installed on a specific type of keg valve and is used to connect the keg to the beer dispensing system.
The choice of the right type of keg coupler is crucial as different types of couplings are required for different beer varieties.
After reading our article, you will learn about all the main types of connectors, as well as understand which of them is worth purchasing for your production.
What Are the Different Types of Keg Couplers?
If you produce several different beer varieties, then probably you have heard that you may need different types of couplers.
It is impossible not to wonder: why not make a universal type of connector that will be suitable for most kegs?
The fact is that most types of keg couplers were developed long before globalization. However, when beer from different countries became available worldwide, the companies producing these beverages did not change anything in their production.
Modern consumers, therefore, have to work with several models of keg couplers.
To date, brewers use such types of keg couplers:
D-type
This is the most common type of barrel connector, which is also known as the American Sankey connector.  It is used for most American beers, such as Budweiser, Yuengling, Molson, Coors, Miller and PBR, which are usually served with lower levels of carbonization.
This coupling has a lever handle and operates at a pressure of 30 to 50 pounds per square inch. It connects to the valve on the barrel and pumps the beer through the hose and tap. One of the main characteristics of the D-type connector is its ease of use, which makes it a popular choice for many bars and pubs.
S-type
This type of coupling is also known as the European Sankey. It is used to serve most European beers such as Heineken, Stella Artois, Pilsner Urquell and Newcastle Brown Ale.
The device has a specific geometric shape with a curved handle, which makes it easy to identify.
The main difference between D and S-type is the shape of the tube: the American model has a wider and shorter tube, while the European model has a longer and narrower one.
U-type
This connector is designed specifically for serving Guinness, Harp Lager, Smithwick's, Magners Cider and other Irish nitrogen beers.
The coupling has a well-type connection and is usually made of stainless steel.
A-type
This connector is also known as the German slider. As you may have guessed, it is used for almost all German and some Belgian beers: Hoegaarden, Ayinger, Franziskaner, Bitburger Pilsner, Krombacher, Löwenbräu, etc.
The device features a characteristic cylindrical shape with two pins that fix it to the keg valve.
G-Type
This coupler has an unusual triangular shape. It is used by several British, American and Dutch breweries, such as Anchor, Fuller's and Grolsch, and other lager and low carbonation beer brands.
Manufacturers have introduced this connector to make it easier to distinguish kegs and not to get confused in production.
M-type
It is the least common coupling model used for some German beers such as Einbecker and Schneider, and other alcoholic beverages with high levels of carbonization.
It is equipped with a metal tube that pierces the barrel valve and closes the lines of gas and liquid.
Which Keg Coupler Do You Need?
Most couplers come with a list of compatible kegs, so you need to check in advance which type of keg you are using.
The use of an inappropriate type of keg coupler can lead to several different problems.
The coupling may not be properly fixed, making it impossible to open the barrel or leading to the leakage of the beverage.
The coupling may be incompatible with the safety valve on the keg, potentially resulting in an increase in pressure and even an explosion.
An inappropriate connector type can also prevent proper beer dispensing from the barrel, which can negatively affect the taste or texture of the drink.
That is why it is so important to make sure that you use the right connector with which you do not have to worry about any of these potential problems.
To help you find the optimal model, we recommend contacting the popular company Beverage Craft. This brand has long been working with various beer equipment and knows exactly which type of keg coupler will fit your keg and the beer variety.
There are 6 types of couplings: you can be sure that Beverage Craft consultants will advise the device that is designed for your barrel type.
And representatives of the brand will gladly tell you how to connect the coupler to the barrel, so you can serve visitors of your establishment tasty, aromatic and fresh beer.
Propane Boiler vs Oil Boiler: Pros & Cons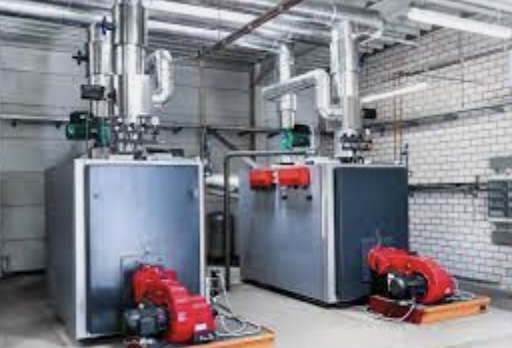 Are you considering replacing your old boiler with a new propane or oil-fired model? If so, you're likely weighing the pros and cons of each type.
In this article, we will compare propane boiler vs oil boiler units to help you make an informed decision about which one is right for you.
We'll discuss their efficiency rating, cost of installation, maintenance requirements, environmental impact, and more.
Read on to learn more about these two popular types of heating systems so you can decide which is best for your home.
If you need help installing or repairing your boiler, you can always rely on a professional HVAC company, like Clover Services, for assistance.
Pros and Cons of Propane Boilers
Like all products, propane boilers have their fair share of pros and cons. If you're on the fence about propane boiler vs oil boiler units, be sure to take these advantages and disadvantages into consideration.
Some of the propane boilers include:
High-Efficiency Rating:Propane boilers are extremely efficient, with an energy efficiency rating of up to 95%. This makes them ideal for those looking to reduce their energy costs and lower their carbon footprint.
Quick Installation:Installing a propane boiler is typically a quick process that can be completed in just one day, so you won't need to wait long before you can start enjoying the benefits.
Low Maintenance Requirements:Unlike oil-fired systems which require regular maintenance and cleaning, propane boilers require very little upkeep or servicing other than occasional filter changes and replacing worn parts if necessary.
Some of the cons of propane boilers include:
Costly Initial Investment:Although you will save money on future energy bills due to the high-efficiency rating of propane boilers, they do come at an initial cost higher than oil-fired models making them not suitable for every budget initially.
Fuel Availability Dependent on Location:Depending on where you live you may struggle to find a reliable source of fuel for your propane boiler as it is not available everywhere in the United States unlike oil boilers which have more widespread availability throughout most states.
Be sure to keep these things in mind if you're on the fence about getting a propane vs oil boiler unit for your home.
Pros and Cons of Oil Boilers
Oil boilers are another popular option for heating systems, offering some advantages compared to propane boilers.
Some of the pros of oil boilers include:
Low Initial Cost:Compared to propane boilers, oil-fired models have a much lower initial cost making them more affordable for those on a budget.
Widely Available Fuel Source:Unlike propane, you won't need to worry about fuel availability with an oil boiler as you can get it almost everywhere in the United States so you can always keep your home warm no matter where you live.
Some of the cons of oil boilers include:
Lower Efficiency Rating than Propane Boilers:While still efficient compared to older models, oil boilers generally have ratings between 80% – 85% which is not quite as high as that offered by propane boilers (95%).
Environmental Concerns Related to Pollution from Burning Fuels:Although modern versions are much cleaner burning than their predecessors, burning fuel does release pollutants into the air so you must consider the environmental impacts of your choice if you are concerned about your carbon footprint.
Higher Maintenance Requirements:When it comes to the oil vs propane boiler debate, experts feel that oil boilers require more regular maintenance than propane boilers.
Propane Boiler vs Oil Boiler: Pros & Cons — Conclusion
Ultimately, you'll need to weigh all of the pros and cons when deciding between a propane boiler and an oil boiler for your home.
Consider your budget, fuel availability in your area, environmental impacts, ease of installation, and maintenance requirements before making a decision. Doing so will help you pick the right model to keep you comfortable for years to come.
100 Watt Solar Panel Kits: How To Choose a Solar Installer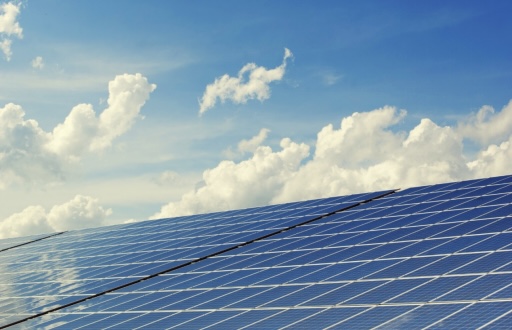 A solar power system can reduce your carbon footprint, save money on your monthly electric bill, and give you the freedom to live off the grid entirely.
Choosing the right solar panels can be confusing, especially if you're a beginner. Watt solar panel kits are convenient solutions that take some stings out of the process. If you opt for a solar panel kit, you'll have a complete system at your fingertips.
However, choosing a company to install 100 watt solar panel kits can be just as challenging. So, how can you be sure that you are hiring the one that is the best for the job?
Keep reading to learn everything you have to know about how to choose the right solar installation contractor.
Overview of 100 Watt Solar Panel Kits
For producing renewable energy, 100 watt solar panel kits are the best choice. A charge controller and 6 or 8 solar panels are typically included in a package for a 100-watt panel.
It also comes with cables and connectors and often an inverter. It is enough to get you started on your green energy journey.
For those looking to power small electronic devices such as laptops and cellphones, the 100-watt kit is a great place to begin. But additional components may be necessary to charge more power-hungry devices.
This solar panel kit provides ample output to cover most home appliances. This includes washing machines, lights, and fans.
They are also easy to install, placed on rooftops, mounted on walls, or set on the ground. They are also designed for easy transportation and storage.
Understanding Your Needs for Solar Installation
Spend time determining your solar installation needs before choosing a solar installer for your solar panel package. Consider the size of your home and the layout of your roof.
Determine whether you would prefer a traditional solar panel installation or if you would like to go with a new and emerging technology such as a watts solar panel kit. Look at the panels' size, shape, and style that you would need to fit into your home or business.
These considerations should provide you with enough information. This way, you can make an informed decision and choose the right solar installer that meets your needs.
How to Choose a Solar Installation Contractor
When choosing a solar installer for your 100 watt solar panels, there are a few essential factors to consider. These are the following:
Look for Qualifications and Certifications
When selecting a solar installer, it is essential to look for qualifications and certifications. An installer should be certified and licensed to install your solar panel system safely and effectively.
Ask for evidence of their credentials at all times, such as a manufacturer's certificate or a NABCEP (North American Board of Certified Energy Practitioners). You must also verify it on the official certification website.
Ensure they know the installation, safety, and technological requirements for solar photovoltaic systems. Additionally, you should ask them detailed questions about their experience in the industry.
Ask how long they have been installing solar energy systems and how many systems they have installed in your area. You must also inquire about the types of systems they typically install.
Get Several Quotes From Different Companies
To acquire high-quality work, you must obtain numerous quotations from several businesses. A quote can give you an idea of the company offers competitive rates.
Asking for a quote and comparing the installation fees should be high on your list of priorities. Different installers will have additional fees depending on the quality of materials, equipment, and labor required. Examine the bids for the costs of the solar panels and the solar installer fees.
Additionally, the businesses you are considering should be able to show examples of their prior successful work. They must provide a list of qualified installers to carry out the work.
You should also ask questions regarding the suitability of their chosen materials and components. Make sure to ask specifically about what the environmental impact will be.
Ask for References
Check the reputation of the company you choose. You can do this by requesting references from recent customers.
Any experienced installer should be willing and able to provide references from customers who have had similar projects done in the past. Obtaining references will help you learn about the quality of the installer's work. This will also let you know whether customers were satisfied with the level of customer service they received.
Look for a Valid Warranty
Warranties are an essential part of any solar installation. This should guarantee that all materials used in the installation are covered for some time.
The warranty should also guarantee that defects are corrected, and repair costs are covered. Additionally, a comprehensive warranty should cover routine maintenance to prevent the need for costly repairs over time. So, make sure to check out this link for additional reading on solar maintenance.
Benefits of Installing 100 Watt Solar Panels
The benefits of installing 100 Watt Solar Panels are numerous. Firstly, 100-watt solar panels are highly efficient. This means you can get the most out of your solar output.
Secondly, they offer a great way to reduce electricity bills. That's because the panels will produce electricity for free. Also, 100-watt solar panels can last for a very long time. When maintained properly, they last 25 to 35 years.
Finally, they are easy to install and relatively inexpensive. This makes them an excellent option for people who want to go green without breaking the bank.
Choose the Best Solar Installer
Make sure to conduct thorough research before deciding on a solar installer. Ask questions to ensure you choose a certified, qualified, and experienced contractor.
Once you are done researching, the next step is to make a solar purchase. Start by browsing 100 watt solar panel kits to compare prices, performance, and quality.
The right installer will help you reap the full benefits of your solar decision. So what are you waiting for? Start your solar journey today and make the switch!
If you've found this article helpful, head back to our blog page now.