How to Build a Smart Home Security System: Step-by-Step Instructions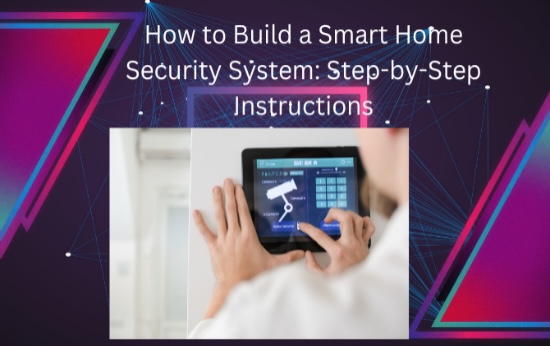 As technology continues to advance, smart solutions are being created for many problems. Today, keeping your home safe can be as easy as tapping a button or giving a command. Smart security systems are created to make sure that even without a human presence, our homes can be secure and protected from invaders.
In this article, we will be looking at the importance of smart home security systems and the step-by-step instructions for building a smart home security system.
A Smart Home Security System: Why It Is Important
Recent statistical reports from the FBI show that in the US, 2.5 million burglaries take place annually. What this means is that every 26 seconds, someone's home is being broken into in the US. This is why you need to keep your home secure.
With the help of a smart home security system, you can take the worry out of safeguarding your home and reduce the chances of break-ins and burglaries. Let's explore some of the advantages of having a smart home security system installed in your home: increased convenience and efficiency, home automation, remote monitoring capabilities and more.
With a smart home security system, you can arm and disarm your alarms with a single app, receive notifications when someone enters or exits your property and control devices around your home remotely. All this added convenience means you will have peace of mind knowing that your home is protected at all times.
Even if you're not sure of what devices you need or how to incorporate them in your home, professionals at ADT home security systems help you get set up. With a smart home security system, you wouldn't need to worry about leaving home, even for a long time. Protecting your property with a smart home security system is not just about keeping the bad guys out — it's about giving yourself peace of mind knowing you can monitor and secure your home from wherever you are.
Besides protecting your home from intruders and burglars, a smart home security system will also keep you and your household protected from fire outbreaks. For example, smoke detectors can help alert you to a possible danger, before it gets out of hand.
In addition, a smart security system can also protect your household from carbon monoxide poisoning. A carbon monoxide detector will alert you if harmful levels of CO2 are detected. What makes smart home security systems even more valuable is the fact that they can integrate various devices.
Connect them to each other and then to your alarm system. And then making them accessible through one central point, which could be your smartphone or your computer. This means that you can monitor activities on your premises from your smartphone.
Step-by-Step Instructions for Building a Smart Home Security System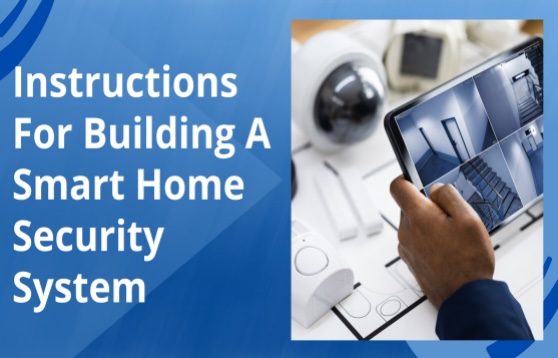 1. Choose a Smart Home Security Partner
Choosing a smart home security partner is the first step to getting started on building a smart security system for your home. They can help you set up all required security devices and show you how they work.
For example, an ADT package will include installing and activation of your devices at no extra cost. If you're choosing to set up your security system by yourself, it is also important that you choose a security platform from where you'll be getting all your devices and fixtures.
This way you can be sure that the devices are compatible and will work well with each other. Having a smart home security partner ensures that you have ready support in case of repairs and maintenance.
2. Start With a Video Doorbell
A video doorbell is one of the first devices to consider if you desire to build an efficient smart home security system on a budget. The front door is the most used entry point into a home. So being able to see what goes on there is critical for the security of your home.
A video doorbell can give you an extra layer of peace of mind when it comes to home safety. From seeing who is at the door to answering the door while you're away, the advantages of using a video doorbell are endless
So even when you're not actively monitoring the camera, you have saved footage that you can watch at any time and share with security personnel In case of trouble.
3. Include a Smart Camera to Cover the Whole House
Surveillance cameras allow you to see what is happening in every part of your house. These cameras also have inbuilt motion detectors, so you get alerts whenever anyone enters your property. And you can see visitors using your smartphone.
ADT security cameras are a great asset for beefing up your home security. Smart Cameras usually come in two types. Indoor cameras and outdoor cameras. The outdoor cameras are usually wireless and waterproof. This gives you the freedom to mount them anywhere you desire.
You would, however, need to charge their batteries every few months. The indoor cameras, on the other hand, require plugging in, and they usually have some kind of screen that allows you to block the camera when you want privacy.
4. Integrate a Smart Lock
An unlocked door is often an open invitation to burglars. So one way to make sure that your doors are always locked is to incorporate smart locks. A smart lock allows you to lock your door using your smartphone. This means that even when you're away from home, you can keep your home secure.
One advantage of a smart lock is that you can create smart keys for regular visitors like housekeepers or babysitters. This allows them to have access to your home at designated times. This way, you wouldn't need to give anyone your keys.
You can find smart locks that work well with your existing keys. You can also opt for one that doesn't require keys at all. Some smart locks can be programmed to unlock automatically when you approach the door with your smart device.
Smart locks come with tons of advantages which can not only make life easier for you but can also provide an extra layer of security for your home. Whether you're looking for the convenience of automatic door unlocking or the protection of secure PIN codes, a smart lock has got you covered.
5. Remember to Add a Smart Smoke Alarm
Fires are also part of security threats. With a smart smoke alarm, you get alerted whenever there's a fire breakout in your home. Many smart smoke detectors can detect both flaming and smoldering fires. This way, you can be alerted before a fire outbreak gets out of hand.
The right smart smoke alarm can be integrated with the rest of your smart security system. You can add to your smart smoke alarm a carbon monoxide detector. This device will pick up on harmful levels of CO within your home and alert you immediately. This will help keep you from carbon monoxide poisoning
6. Do Not Forget Alarm Sensors
Alarm Sensors are a great way to prevent break-ins. They notify you if any entry point into your home is being forcefully opened. This means that you must include all windows and doors when you make provisions for alarm sensors. In case of a forceful entry, the alarm sensor will send a notification to your smartphone.
From detecting movement or vibrations to alerting homeowners to the presence of carbon monoxide or smoke, these sensors provide a wide range of benefits.
This way, you can quickly take action, like alert security operatives. One great feature of these alarm sensors is that the alarms are usually loud enough to attract the attention of other people. This way, even if you're not home, neighbors can be alerted to s break in and call the police on your behalf.
7. Incorporate Smart Light Bulbs
With smart light bulbs, you can control specific light points in your home or the entire light setup. Smart bulbs can be programmed to turn on automatically when you step into the house and turn off once you step out.
Smart Lighting offers many advantages and possibilities. By using sensors and automated processes, it can make your home smarter, safer and more enjoyable. Whether you want to enjoy a beautiful ambience in every room or ensure that no energy goes to waste, smart lighting systems are the perfect choice for modern homes.
You can even use your phone to control their color and brightness. The great thing about smart bulbs is that they're easy to install. In place of smart bulbs, smart switches are another great option. They can be used with the existing light fixtures in the house.
8. A Smart Garage Door Opener Is Also a Great Idea
You can also keep your cars and packages secure by installing a smart garage door opener. With this device installed, you can open and close your garage door from your smartphone.
You also get notified whenever someone opens the door. For extra security, you may decide to add a smart camera, so you can see anyone who enters or exits the garage.
Conclusion
With a smart home security system, you can keep your home secure 24 hours a day, regardless of where you are. A smart security system helps you to ward off danger by allowing you to see anyone within your premises.
This way, you can alert the appropriate authorities if you sense any suspicious activity. You're not only protected from intruders, but a smart home security system can also protect your home from fire outbreaks and help prevent carbon monoxide poisoning.
However, to enjoy these enormous benefits, you must make sure to choose a security platform that suits your needs and addresses your pain points. You must also ensure that the devices that you use will work well with each other. So you can enjoy a seamless experience and cease worrying.
Inexpensive Remodeling Ideas for Your Home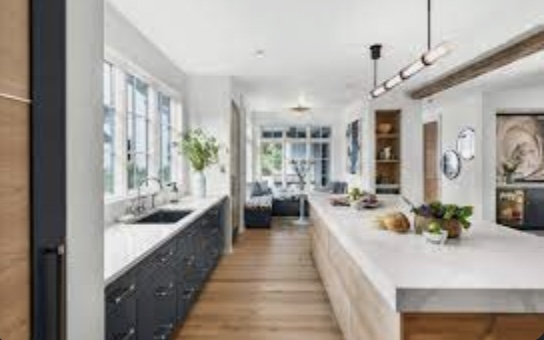 Remodeling your home can be an exciting and fulfilling experience, but it can also be expensive. However, there are many ways to update your home without breaking the bank. Whether you're looking to refresh your kitchen, update your bathroom, or just give your home a new look, there are plenty of inexpensive remodeling ideas to choose from.
Paint
One of the simplest and most affordable ways to update your home is with a fresh coat of paint. You can change the color of a room or give it a new look with an accent wall. Paint is an easy way to add color, style, and personality to your home without spending a lot of money.
Lighting
Lighting can have a big impact on a room's look and feel. Updating your lighting fixtures is an easy way to give your home a new look. You can replace old or outdated light fixtures with new ones or add new lamps or sconces to brighten up a room.
Window Treatments
Window treatments can be a great way to add style and privacy to your home. You can update your existing window treatments or add new ones to give your home a new look. Window treatments can be purchased for a relatively low cost, and they're easy to install.
Kitchen and Bathroom Upgrades
If you're looking to update your kitchen or bathroom, there are plenty of affordable options. You can update your cabinets with new hardware, replace your countertops, or add new tiles to your backsplash. In the bathroom, you can replace your sink, faucet, and toilet, or add new shower tiles.
Flooring
Updating your flooring can be a big expense, but there are ways to do it on a budget. You can paint or refinish existing hardwood floors, or install new laminate flooring. Area rugs can also be a great way to update the look of your flooring without breaking the bank.
Landscaping
Landscaping can be a great way to add curb appeal to your home and improve your outdoor living space. You can add new plants, flowers, or trees to your yard, or build a new patio or deck. Landscaping is a great way to improve the look of your home and increase its value, without spending a lot of money.
Decor
Finally, adding new decor to your home can be an easy and inexpensive way to update its look. You can add new throw pillows, curtains, or wall art to give your home a new look. You can also add new accessories, such as candles, vases, and picture frames.
Putting money into NDIS Property Investment can be a smart move for your finances, but it's just as important to ensure that your house has the appearance and atmosphere that you want it to have. You don't need to spend a lot of money to bring your home up to date and increase its value when you implement some of these simple and inexpensive remodeling ideas.
What Are Plumbing Services and When to Look for These Services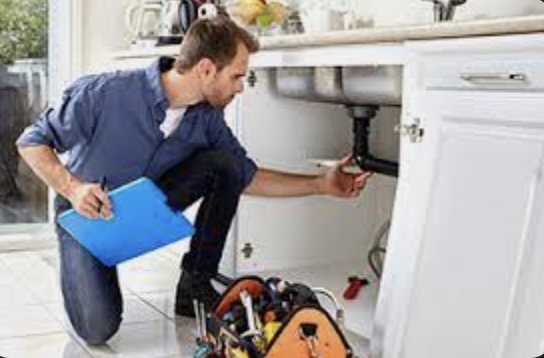 Plumbing services refer to installing, repairing, and maintaining the systems and fixtures used to distribute water and gas and remove waste and sewage from buildings. This includes installing and repairing pipes, fittings, and fixtures, such as sinks, toilets, showers, and water heaters. Plumbing services also include the diagnosis and repair of leaks and blockages, as well as the installation and maintenance of septic systems.
When Is the Right Time to Look for a Plumber?
Several signs indicate you should seek professional plumbing services:
Leaks: If you notice water leaks from pipes or fixtures, it is crucial to have a plumber assess and repair the problem as soon as possible. Leaks can cause significant damage to your property and waste a lot of water, leading to higher utility bills. Besides, leaks can also create an ideal environment for mold and mildew to grow, which can be harmful to your health. A plumber will be able to quickly diagnose and repair the leak, preventing further damage and saving you money in the long run.
Low water pressure: If you notice that your water pressure is consistently low, it could be a sign of a blocked pipe or a problem with your water supply. A variety of factors can cause low water pressure. Some include a build-up of mineral deposits in the pipes, a leak in the main water supply line, or a problem with the water pressure regulator.
A plumber can diagnose the cause of the low water pressure and take the appropriate steps to fix it, such as cleaning the pipes, repairing leaks, or replacing the water pressure regulator. Low water pressure can also be a symptom of a larger issue, such as a water main break or a malfunctioning pump. In such cases, the plumber will be able to advise you and take the necessary steps to fix the problem.
Strange noises: If you hear strange noises, such as banging or whistling, coming from your pipes, it could indicate a problem with the pipe or a valve that needs to be addressed by a professional plumber. These noises can be caused by various issues, such as a build-up of water pressure, a problem with the valve, or a pipe that has come loose.
Banging noises may be caused by a water hammer, which is caused by the sudden stop of water flow, usually when you turn off a faucet or valve. Whistling noises can be caused by restricted water flow due to a narrowed pipe or valve. A plumber from any of the reputable plumbing companies In Calgary can diagnose the cause of the noise and take the appropriate steps to fix it, such as adjusting the water pressure, replacing a valve, or securing a loose pipe.
Aged appliances: If your appliances are old, it's a good idea to have a professional plumber check them to ensure they are working efficiently and safely. Age can take a toll on appliances and cause them to wear out or malfunction, leading to water leaks, low water pressure, or other issues.
A plumber can inspect your appliances, identify potential problems, and make necessary repairs or replacements. This can help to prevent costly repairs down the road and ensure that your appliances are working as efficiently and safely as possible. Additionally, older appliances may not meet safety standards or be energy-efficient. Having a professional check and possibly upgrading them can save you money on bills and keep you and your family safe.
Key Takeaway
If you are struggling with plumbing issues, look for professional plumbers. These skilled tradespeople install, repair, and maintain plumbing systems in residential and commercial buildings. They typically have training and experience in installing and repairing pipes, fittings, and fixtures used to bring water, gas, and waste removal to buildings. They also know local plumbing codes and regulations and use various tools and equipment to complete their work.
How to Set Up a Home Cellar for the Perfect Wine Experience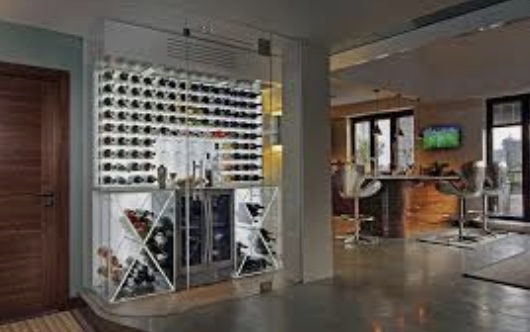 If you are a wine enthusiast, then setting up a home cellar is the best way to store and enjoy your favourite bottles. Having your own cellar allows you to create the perfect environment for ageing and storing wines, as well as giving you an opportunity to display your collection. Here's a guide on how to set up a home cellar that will help you make the most of your wine experience.
Choose the Right Location
The first step in setting up a home cellar is deciding where it will be located. You want to choose a location that has optimal temperature, humidity, and ventilation. Ideally, your cellar should have an ambient temperature between 50-59 degrees Fahrenheit and humidity levels between 50-70%. If the temperature or humidity levels get too high or too low, it can affect the taste of your wine.  Additionally, make sure there is adequate ventilation in order to prevent mould or mildew from forming. The basement is usually the best place for a home cellar because it's naturally cool and dark. It should also have available power outlets for any necessary equipment like wine coolers or dehumidifiers. The space required depends on how many bottles of wine you plan on storing, but generally speaking it should be at least 10 square feet with 8-foot ceilings.
Design Your Cellar
Now that you've chosen a location for your home cellar, it's time to start designing. When designing your home cellar, consider what type of shelving and racks you would like to use for storing your bottles of wine. You can either purchase pre-made racks or build custom ones yourself. Next, determine if you need any other equipment such as humidifiers or wine coolers in order to maintain the right temperature and humidity levels inside your cellar. You may also want to install lighting fixtures so that you can easily see inside your storage area when needed.
Secure Your Cellar
Finally, make sure that your home cellar is secure by installing security measures such as locks on doors/windows or an alarm system with motion sensors. This will help to keep any unwanted visitors out of your storage area while giving you peace of mind knowing that your valuable collection is safe and secure at all times.
Temperature & Humidity
The ideal temperature range for storage and ageing of wines is between 52°F (11°C) and 57°F (14°C). Warmer temperatures can cause the wine to age too quickly while colder temperatures can damage its flavour profile. The ideal relative humidity level for optimal storage conditions is between 60% and 75%. Too much humidity can lead to mould growth while too little can dry out corks and cause oxidation of the wine over time.
Equipment & Design Elements  The type of equipment used in your home cellar will depend on what kind of climate control system you need based on the location and size of your cellar. There are several types of wine coolers available such as integrated wine coolers, dual-zone wine coolers and freestanding wine coolers that can provide temperature control for larger spaces. Dehumidifiers are also useful for maintaining optimal humidity levels in smaller spaces where cooling systems may not be needed or feasible. In terms of design elements, natural wood shelving with multiple compartments will help organise your collection more efficiently while providing insulation from fluctuations in temperature and humidity levels outside the cellar walls.
Creating a home cellar is an excellent way for any wine connoisseur to properly store and age their bottles while showcasing their collection in style! Setting up a home cellar doesn't have to be intimidating – with some basic knowledge about climate control requirements, proper equipment selection and design elements, anyone can create their own personalised space dedicated to enjoying their favourite bottles of wine! With these tips in mind, why not get started today? Your future self will thank you!