Plant vs. Undead: The Complete Guide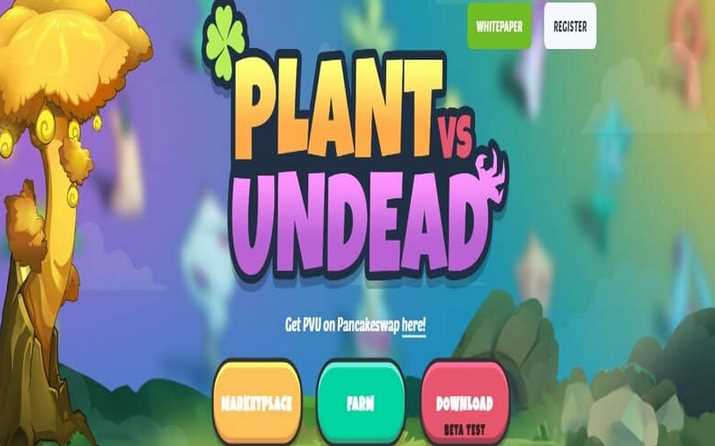 The game is still early access, so the gameplay mechanics are still being polished. This guide should tell you everything you need to know about PvD that will be relevant once it leaves early access. It's worth noting that this game uses a blockchain for NFTs, making cheating very hard to accomplish. So, if you've ever felt frustrated by others pushing their way to the top of the leaderboards without putting in the effort, then Plant vs. Undead could be an excellent option for you.
Overview of Plant vs. Undead
The general premise of this game is quite simple: one team plants the plants while the other team tries to kill them. Players start off as Zombies who have Undead Surges, which allows them to move faster for a short period of time. Your goal as a Zombie is to destroy all the player's health points (HP). You can damage their HP by attacking them or infecting other plants. The player can defend themselves using their abilities and other plant cards they may have in their deck – that's where the Plants come into play
Each Plant has a different ability, and players can only bring 4 of these cards to battle. For example, the Cactus shoots needles and deals one damage each time it hits an enemy; meanwhile, Snow Pea slows zombies down with its chilly presence. You can find out more about all of the plants here.
There are also some support type cards like Heal, which heals allies (including yourself). It is possible to 'shuffle' your deck at any point during a game by using Shuffle. However, you will not be able to shuffle your deck if you have less than five cards left.
Shuffle can also be used to take out bad cards, and it is good practice to shuffle as soon as you take a plant into your hand: this increases the chance of drawing another plant card significantly.
Gameplay in Plant vs. Undead
There are currently two game modes in PvD: Battle Arena (which will be referred to as 'Arena' from now on), where players battle against real opponents, and Practice Mode, which allows players to train against bots or friends.
You cannot choose which player you want to fight before the game starts, but once they are selected, whoever has the highest rank gets the first pick of who they wish their teammate to be. There are four ranks at the moment: Bronze, Silver, Gold, and Diamond. You will only fight someone with a similar or lower level than you; however, your opponents will always be of the same role (Plant/Zombie).
Winning games in Plant vs. Undead
The player who wins two out of three rounds wins the game: if one side loses all its HP, they lose that round. Note that each time you win or lose a battle, your rank will go up or down accordingly. So, it is possible to advance through the ranks by winning more games than losing – but it can take quite some time!
You cannot recover health between rounds, so try not to die before the next round starts. The team with fewer players left alive at the end of a round gets to choose who they want their new teammate to be. If the players in a team have equal health, neither of them will change teammates – this is called 'drawing.'
Containers
Many aspects of the game are sold at random through chests called 'containers.' These containers can only be purchased with an in-game currency called Coins. You can get coins by winning games: you get a coin reward for each win and then an additional bonus if your team wins.
The number of coins you receive is based on the number of players in each team and how well they played. Chests can also be bought with gems, which you can purchase with real money or gain through events.
The Different Roles
Once the game starts, you get two minutes (which is displayed on the top left) to pick your role. You can do this by clicking one of the flags next to your name: The Plant player stays at base and builds up strength, while the Zombie works together with various other Zombies to destroy all humans (or Plants). Once you've decided, you cannot switch again until after dying or winning! If there are only four players in each team and someone leaves, their slot will be replaced once they log back in.
Playing as a Zombie
When you first pick the Zombie role, you will be asked to select your class. You can click on all of them if you want to see what they do; however, some are stronger than others. So it is usually best to go with whichever one has the highest' power' level.
Power determines how many Zombies you have on your team – players with high power levels are more likely to attract other Zombies who want to play with someone strong! Players of low power levels may find that no one wants to join their game. Higher powered zombies also bring faster movement speed and more health points (HP) which are quite helpful for attacking.
If you are new, I would recommend staying at least one space back from the front line: this gives you a chance to dodge and attack at the same time and also allows for more damage to be inflicted during both of these actions.
Playing as a Plant
When playing as a Plant, it is best not to go too far ahead because high-powered Zombies will quickly destroy you. You can use your Sunflowers (which generate one extra sun/turn) as shields against other Plants or support cards such as Heal but always remain aware of whichever Zombie class is most powerful. Those guys are generally faster than others so that they may get the first shot in!
Try building up strength over time instead of charging into battle like crazy; that way, if one of your plants dies, then you know you've got something to fall back on.
This is one of those games that provides continual challenges to keep your interest and have you returning day after day!
How Gaming can Improve Your Problem-Solving Skills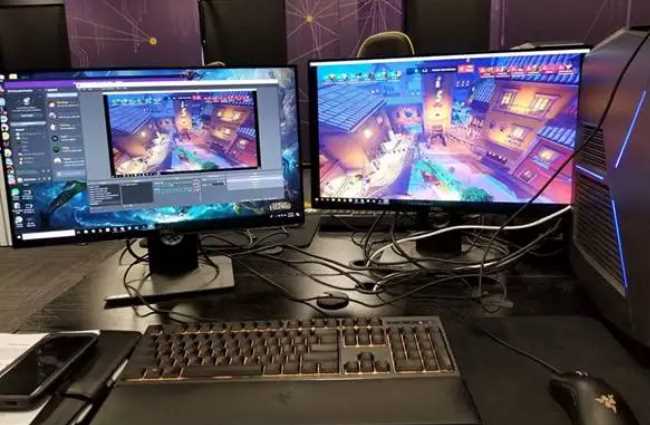 The gaming world is vast and filled with all sorts of different challenges to overcome. Whether it's finding the right strategy to beat a boss in an RPG, or simply trying to find the quickest way to get from point A to point B in a racing game, gamers are constantly presented with new problems to solve.
And it's not just the gaming world that can benefit from this problem-solving skillset. In the real world, those who are good at solving problems quickly and efficiently are often the ones who succeed.
So how can gaming improve your problem-solving skills? Let's take a look at these benefits.
Games Can Help You Develop a Process for Solving Problems
When you're presented with a problem in a game, you usually can't just brute force your way through it. You need to take some time to think about the best way to approach the problem.
This process of breaking down a problem and figuring out the best way to solve it is something that can be applied to real-world problems as well.
Games Can Help You Develop Creative Solutions
Often, the most satisfying way to solve a problem in a game is to come up with a creative solution that no one else has thought of. This could be something as simple as finding a new way to beat a boss in a video game, or it could be something more complex like figuring out how to get past a certain puzzle in an escape room.
In the real world, being able to come up with creative solutions is often the key to success. Those who can think outside the box and come up with new ideas are often the ones who thrive.
Games Can Help You Practice Planning and Organizing
Many games require you to plan and organize your time in order to complete all of the tasks that you need to do. For example, in a real-time strategy game, you need to plan out your attacks while also managing your resources. In a role-playing game, you need to plan your character's progression and decide which skills to level up.
In the real world, good planning and organization skills are essential for success. Those who can manage their time well and have a clear plan are often the ones who accomplish their goals.
Games Can Help You Learn to Multi-Task
Many games require you to juggle multiple tasks at the same time. For example, in a first-person shooter, you need to aim and shoot your gun while also moving and avoiding enemy fire. In a real-time strategy game, you need to manage your economy while also building up your army and attacking your opponents.
In the real world, those who are good at multitasking are often the ones who succeed. Those who can handle multiple tasks at once and don't get overwhelmed are usually the ones who accomplish their goals.
Games Can Help You Develop a Growth Mindset
One of the best things about gaming is that it's a safe environment to fail. You can try new things and experiment without fear of failure. This is because in most games, you can simply reload your save file and try again.
This willingness to experiment and try new things is something that can be applied to the real world as well. Those who are willing to fail and learn from their mistakes are often the ones who succeed.
Games Can Improve Your Computer Troubleshooting Skills
Lastly, gaming can also help you improve your computer troubleshooting skills. Gamers are often on the cutting edge of technology and are always trying out new hardware and software. As a result, they often run into technical problems that they need to figure out how to solve.
This experience can be applied to the real world as well. For example, if your gaming PC setup suddenly stops working, you can use your troubleshooting skills to figure out what's wrong and fix it.
These are just a few of the ways that gaming can improve your problem-solving skills. So, if you're looking to boost your brain power, gaming is a great way to do it.
Everything You Need To Know About Block Puzzles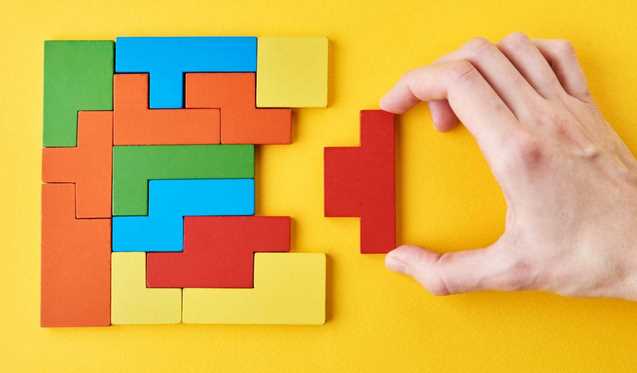 Puzzle games are classic games that have been available for centuries. The most popular puzzle games is block puzzles. Block puzzles are not only fun and addictive, but they are games that can help you improve your concentration and memory.
Thanks to the advancement of technology in the gaming industry, you can now play block puzzles on your smartphone or tablet anywhere, anytime. One of the best things about block puzzles is that they come in many variations, so you can easily find one that suits your preference and skill level.
But what exactly are block puzzles, how can you play them, and why should you start playing them. Let's find out!
What is a block puzzle?
A block puzzle is a fun trivia game. You are required to drop blocks into the grid on your screen. This is one of the most fun and addictive block games that will keep you glued to your screen for hours.
The game seems quite easy as you start out with just a few blocks and a few different possible arrangements. But as you continue to play and the number of blocks increases, you will notice that the game gets more challenging.  However, that shouldn't worry you because the more you continue playing block puzzles, the more you will get used to it and get familiar with strategies that can help you play it effortlessly and increase your score. As already mentioned, block games come in a wide range of variations, including Sudoku, Tetris, Tangram, etc.
How to play block puzzles
Now that you understand what block puzzles are, let's now see how you can play this game. To play this game, you need to drag and place the blocks in the right place. It is not just about dumping them anywhere; you must be very careful when placing the blocks if you want to increase your score. You need to create full lines on the grid on your screen, both vertically and horizontally. The full lines will be cleared. The more lines you clear, the higher your score.
Why you should start playing block puzzles if you haven't yet
There are plenty of reasons you should play block puzzle games. So if you are wondering why this puzzle game is worth your time, here are reasons to prompt you to do so.
These games can help you boost your concentration level
When playing a block puzzle, you must fully concentrate on the game. Any kind of distraction can make you place the blocks wrongly, thereby ending up with a lower score. So you must concentrate. This skill can benefit your personal and professional life.
They are fun and interesting to play
Another thing, these block puzzle games are very fun and interesting. So if you are looking for a perfect way to relax and have a great time, consider playing any block puzzle game of your choice.
They are free to download and play
Most block puzzles are absolutely free to download and play. So you don't have to worry about spending money just to play the game.
How Can You Choose a Gaming Chair That Looks and Feels Good?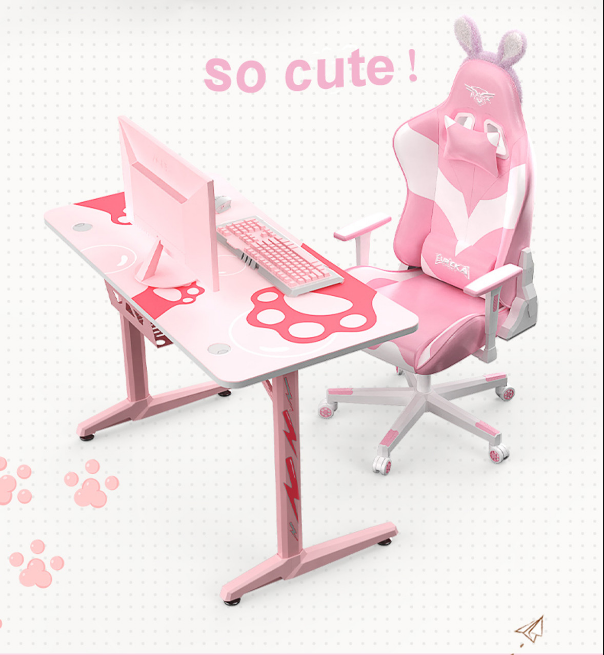 A gaming chair can make a big difference if you're a gamer. You can technically sit in any chair that you have while you're gaming, but a gaming chair is a superior choice for several reasons. Gaming chairs are typically more comfortable and designed with ergonomics in mind, so you can sit in them for longer and your body will be supported in all the right ways. Ergonomic gaming chairs are more than just practical too. They can also look great and help to complete your gaming setup so it really feels like yours.
If you're looking for a gaming chair, you might be trying to balance comfort and aesthetics. On top of that, you also need to make sure you have space for the chair that you choose. You can get all of these things in a gaming chair if you look for the right one. Many gaming chairs are packed with great features and benefits that make them perfect for hours of gameplay. This guide will help to show you that gaming chairs like the Eureka Ergonomic GC-04 Pink Gaming Chair can both look and feel good.
Finding a Comfortable Chair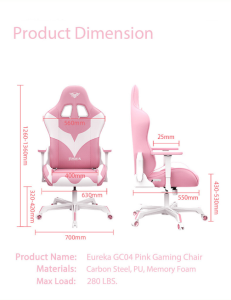 The first thing that you should think about if you're looking for the right gamer chair is comfort. Ergonomic gaming chairs are the best choice because they're designed with your comfort in mind. Ergonomic refers to furniture or equipment that is designed to be comfortable for the user. Sometimes people use it to refer specifically to the workplace, but it can be used in reference to any furniture that's designed to be comfortable.
The Eureka Ergonomic GC-04 Pink Gaming Chair is a great example of an ergonomic gaming chair that will offer you the comfort you're looking for. It's made with memory foam to mold to your shape and support you in all the right places when you're sitting in it. This is one of the things that you should look for if you want a comfortable gaming chair that will give you the right support on your back, legs, and more. You might also want to look for additional areas of support, such as the cushions that the GC-04 has to support your back.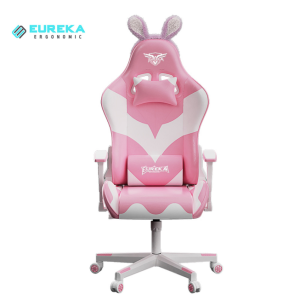 Another thing to look at is the dimensions of the chair and how it can be adjusted. You want to know that the chair has enough space for you and that you can adjust the height so it's comfortable for you. You want to be able to sit back in the chair with your feet flat on the floor (even if you won't always be sitting that way).
Armrests are also a feature that you will want to look at. They should be large enough for you and give you a comfortable space to rest your arms while you're gaming. They should support your elbows, and they might also be adjustable.
How to Find a Chair You Love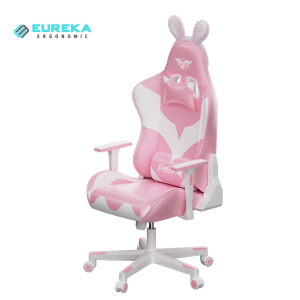 A comfortable gaming chair is important, but many people also find it pretty important to choose a chair that looks great. A chair that you love might match your current gaming setup or it could just be something that appeals to your aesthetic tastes. The Eureka Ergonomic GC-04 Pink Gaming Chair is perfect if you have a feminine style. The white and pink design gives a candy-style coloring that will be fun to add to any room. This chair also has a pair of cute rabbit ears on the headrest. They could be fun to attach while you're streaming or you can take them off if you prefer not to have them there all the time.
Color isn't the only thing you might consider when looking for the right design. The overall shape could be something to take into account when you're looking for the right chair. Of course, it's really all down to personal taste, so no one else can really tell you what makes a good chair in this regard. However, you might be looking for a chair that matches your desk or that works with other furniture or decor that you have.
Check Functionality and Durability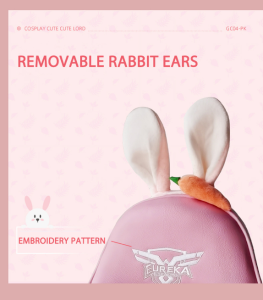 It's also important to look at what a gaming chair is capable of and how durable it is. Ergonomic gaming chairs might be comfortable, but they also need to be sturdy. Firstly, check things such as what the chair is made from and the weight capacity. For example, the GC-04 Pink Gaming Chair is made from strong carbon steel, PU, and memory foam. It has a weight capacity of 280lbs, so it's more than capable of holding larger people. Another thing that is worth checking is whether the chair has a warranty. It's reassuring to know that you can have it repaired or replaced if anything goes wrong.
Find a Chair That Fits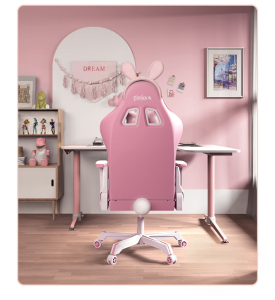 Remember that you need your gaming chair to fit into the space that you have available. Whether you want to sit at a desk or you have another space carved out for gaming, it's important to check that your desired chair is going to fit. You can find the dimensions on any product page, so make sure you consider every important measurement. Some of the measurements you will definitely want to look at include the base of the chair, the seat of the chair (including the height, width, and depth), and the height of the chair back. The dimensions of the armrests are also important. You will also want to know the total height of the chair.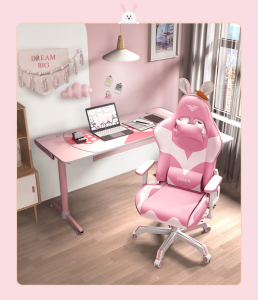 Measure the space that you have available so that you know whether the chair will fit. Consider whether the chair adjusts too and if you will have enough space to adjust the chair if necessary. And remember that you also need to fit into the chair, and you need to be able to get in and out of it.
A gaming chair can be comfortable while also looking awesome. If you're looking for the right chair, take a look at all of the information available to find the right one. https://eurekaergonomic.com/gaming-chairs/