Best Table Magician in London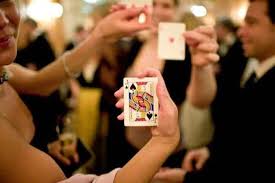 Wedding events, corporate parties, social gatherings, and other activities continue taking place in London daily. To create a buzz and make these events memorable, people include several activities in them. These activities focus on entertaining the guests and creating an environment that can be remembered in the years to come.
One of the best ways to make your event memorable is by hiring a magician. These magicians show various magic tricks in these events and focus on entertaining the guests.
In particular, if we talk about table magic, it is loved by everyone. Several table magicians are present in London who perform various Magic tricks on your table. These magic tricks involve close-up magic, which leaves the person amazed at how laws of nature and objects change in front of their eyes.
Stage Magic is entertaining but when it comes to close-up table magic is when all the guests present in the event or gathering gather around a table and are entertained by a professional table magician.
3 BEST TABLE MAGICIANS IN LONDON
If you are searching for the best table magicians in London, search no more. Here in this article, we have selected some of the best table magicians in London that have been in the magic industry for quite a long. So, let's start exploring them.
1.   Noel Qualter
Noel Qualter is one of the best table magicians in London. He is well-known for his creative and innovative skills in the magic world. He is a well-experienced magician and has gained a reputation by showcasing his talents in BAFTA, numerous magic shows, and also for TV shows such as; Ben Hart, Issy Simpson, and many more.
When it comes to table magic, Noel Qualter is considered the best magician in the magic world. He is known for performing various magic skills at your table using small objects such as; cards, coins, rings, banknotes, and smartphones. He is a master when it comes to producing TV level magic with these objects.
Having experience of around 20 years as a professional magician, Noel Qualter is regarded as the best option for all types of events and gatherings. His excellence in magic and his way of approaching the audience and making them comfortable to experience his magic's true potential is unlike any other magician out there.
2.   Magio
Magio is an astonishingly talented magician based in London. Through his tremendous magic skills, he has performed and influenced people worldwide. He has the edge over other magicians as he performs worldwide and knows various languages. In this way, he attracts and influences the audience towards himself and his Magic tricks.
Although he performs different types of magic, his expertise in table magic are astonishing. He became famous and gained a lot more attention after he campaigned with McDonald's and made a video in which he performed live magic and astounded many people. Eventually, that video got over a million views on Facebook.
So, if you are looking for a well-known, famous, young, and talented magician to entertain you and your guests through his expertise in the table and close-up Magic, Magic is one of the most entertaining magicians that you can hire in London.
3.   Maximillian Rendall
Maximillian Rendall is a member of the Magic circle in London. He has experience of over ten years, during which he has performed hundreds of magic shows worldwide. With his vast knowledge and professional magic skills, you can be at ease that your event is in safe hands.
Talking about his expertise, Maximillian is very skillful and entertaining as a close-up & table magician. Due to his exceptional and breathtaking magic tricks, Maximillian is currently among the highly demanded magician hire london.
No matter how good a magician is, he must have the confidence and personality to approach the audience and make them feel comfortable. Maximillian surely knows how to approach and entertain his audience even in gatherings such as weddings or cooperate events with his vast experience. With his experience and skills, he can engage his audience to fully experience and enjoy his Magic tricks.