4 Common Roof Problems Homeowners Experience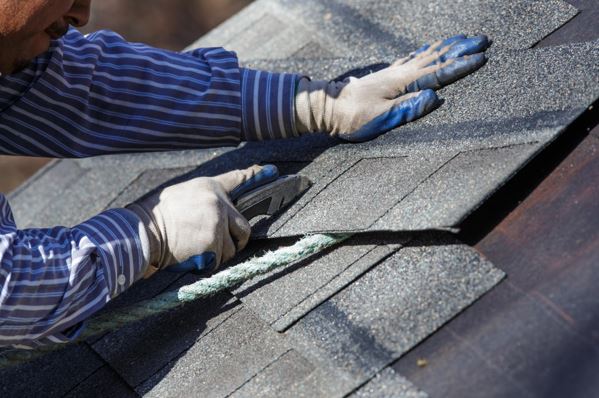 Are you a new homeowner looking to prepare yourself for the potential trials of homeownership? Let's talk about your roof.
Many people neglect their roofs. After all, you're not usually seeing them head-on and as long as they aren't caving in you don't tend to notice them. But there are a few roof problems that will catch you off-guard if you aren't paying attention. By the time you notice them, they may become a more expensive issue.
We have a few of the more common roofing problems that we've seen homeowners experience. Keep reading to learn more.
Damaged Gutters
How often do you attend to your gutters?
For most people, the answer is "not often enough." There are so many other tasks to take care of that some things that are out of sight often go unnoticed and unfixed.
So how can gutters cause damage to your home?
When your gutters are clogged, they can get too heavy. This can cause them to fall away from your home. When that happens, they can drag parts of your roof with them.
Clean your gutters and replace them when necessary to avoid a disaster.
Leaks
We all know that feeling of dread that happens when we hear water dripping where it shouldn't be. One cause of this is a leaky roof.
There are so many causes of leaks. They can be caused by one of the other problems on this list, by cracking around the chimney, by unsealed skylights, and more. The worst part is that you may not notice them until it's too late.
Once you notice any kind of suspicious water damage, contact a roofing professional. Professional roofers, like those at Reed Roofing, can even provide roof waterproofing so you don't have trouble in the future.
Tree Damage
Anywhere that there are tall trees there's bound to be tree damage.
Most people only notice tree damage when it's obvious. After storms or an accidental tree-cutting mistake, trees may fall onto the roof and damage it.
This isn't the only way to get tree damage though.
If you have branches rubbing up against your roof, they're wearing the roof away over time. It's important to stay on top of the trees on your property.
Pests 
Pests are a pain when it comes to your roof.
One of the biggest threats is termites. They dig through the outside of your home and eat their way into the walls causing massive structural damage.
You may also experience other pests that have chosen to burrow in or through your roof to stay warm and make their nests. Common animals in roofs are squirrels, raccoons, and birds.
These pests can cause your roof shingles to split or peel up.
Have You Experienced These Roof Problems? 
Homeowners will almost all experience some form of roof problems and you need to be prepared.
To avoid disaster and expensive damage control, check up on your roof seasonally. You'll identify cracks, splits, leaks, pests, and any other things that can cause more intense structural damage before they become an issue. It's a good idea to hire someone to inspect your roof if you're concerned.
For more helpful articles for homeowners, check out the rest of the site!
6 Simple Guidelines for Optimizing Any Narrow Garage Space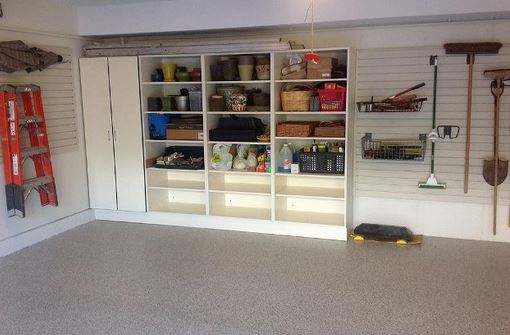 As homeowners, we know that you can relate to insufficient storage space in your home or apartment. Nowadays, storage space is one of the important factors in buying or renting out a home. And one room in particular that homeowners, especially car owners, pay attention to is the garage.
A garage is a room or building that may be attached or separated from a home used to house vehicles and store miscellaneous commodities. Many homeowners bombard this room with many things, making it satiated which causes hazards and property damages if not treated properly.  Hence in this article, we will be focusing on guidelines in optimizing your garage space while keeping it safe for the family.
1. Mount and Hang Select Items
Many people today are switching to a more active lifestyle which is very beneficial not only to them but also to the environment. One piece of equipment that is popular in this type of lifestyle is a bike. Bikes are light, easy to maintain, and practical, comparing it to motor-powered vehicles but homeowners still encounter problems when it comes to storing them.
A simple solution is for this equipment to be mounted or hanged. With a simple hook and screws, you can install an indoor bike rack on your wall with ease and provide you easy access to it. Mounting and hanging can also be employed for tools and objects you regularly used in your houses such as hammers and saws. Before installing any hooks and screws, always check if the wall you are installing can support their weight and if the wall material is suitable to be mounted.
2. Install Vertical Shelves
It is no surprise that we have many things and equipment stored in our garages and sometimes, we are tired of finding more room for our belongings. One solution for this kind of situation is the installation of vertical shelves. We can take advantage of the little spaces left and use them to their fullest potential.
Vertical shelves may seem huge but if you pick the right one, it would be a lifesaver. With the vertical shelves' use of vertical space, it would be a perfect addition to one's garage. Depending also on what type of material your shelves are made of, it can carry heavy commodities. These shelves are very advantageous when you have a lot of heavy tools and objects at home.
3. Utilizing Ceiling Space
We mentioned earlier, the vertical space available in our garage, but did it ever cross your mind using the ceiling space? Using ceiling space may seem impossible and humorous but with the right mindset and materials, it can be doable. You can store your things that are not frequently used but still needed just like your holiday decorations or seasonal equipment. You can also store your family heirlooms that still hold value to your family.
4. Have a Floor Plan
Having a floor plan may seem unnecessary when it comes to a garage space but contrary to that belief, it is essential when building, renovating, or choosing a garage for your family or yourself. Having a floor plan can help you in making decisions in the house. Decisions such as buying a car, installation of storage equipment, choice of tools and equipment, and more. One important aspect of having a floor plan is the allocation of space for your things and vehicles.
5. Group and Label Items
To maximize the efficiency and space of the garage, it would be best to group the items stored in it. Grouping them would not only help you locate items of certain categories but also keep them nice and tidy.  The same goes for labeling. Labeling each item may be unproductive but when it comes to labeling grouped items in the garage, it would be perfect.
6. Keep Track of Your Maintenance
One of the most important parts of optimizing your garage space is monitoring and maintenance. Let us say that you are satisfied with your garage room but as time went by, your garage room became crowded and crammed. This scenario can lead to hazardous situations that can lead to property damage and injuries to the family.
Through monitoring and maintenance, we can keep this scenario from happening through monitoring and maintenance. Monitoring your garage while maintaining the materials or storage equipment in your room can help you prevent most accidents within the room. It could also help you monitor the satiety level of the room to keep it from being full.
Conclusion
Always remember that not all the said guidelines may be applicable in your situation. It will always be dependent on you and on how to apply this information. If you are unsure do not hesitate to look for more storage options and ideas on Storables.com! Stay simple, creative, and never forget to have fun recreating space.
Saving Space at Home: Improvise Your Bathroom with an Over-the-toilet Storage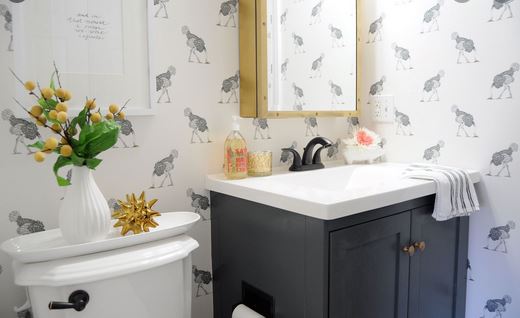 Homes speak a lot about who we are and what we think is important in life or what we value and invest ourselves more on. No matter what place we consider as a home, the very word has a more profound meaning to each of us individually. Home means sanctuary. It is the place foreseen to be relaxing, a place where we can rest, enjoy time with friends, learn, grow, heal, and just be. Yet, these days, most people can hardly afford the monthly rent nor the capacity to purchase a home of their own. Most of the time, people have to settle for less space just to find themselves a place to stay.
When we desire to purchase a home, we seek it to render us the comfort we need, a place we can feel safe, where we could invest our hopes, dreams and wishes as a framework for our future. Every one of us has pretty much similar life goals when it comes to purchasing a home. We don't care enough about the matter of what types, shape, size, or color of the home we choose, as long as it best fits our interests. Usually, all we want is to be able to start a new chapter in our lives – have a family, grow old, and eventually retire. Yet, again, since rentals and purchase of a home may cause an arm and a leg, there is often a need to be inventive and creative when it comes to saving space, especially if we got ourselves a tiny house.
Did You Know?
If you are going to be asked, "what do you think is the most important room in a house?" What would you consider? Will you say it's the living room since it is where guests are being entertained?; the bedrooms for it is the place of rest?; or the kitchen where daily meals are cooked? All of the three mentioned rooms are equally important. Anyway, a home would not be able to function without any of it. Yet, there is one part of a house that is barely even mentioned but is of equal importance to the rest- it is the Bathroom. The only way a bathroom is getting properly acknowledged is if it was just renovated. Otherwise, it is simply a place we go to if needed but is not something to be talked about. Thus, to save up space at home, an easy-to-make, easy-to-arrange, and convenient over toilet storage is a great choice of furniture to consider.
If you're not a fan of handicrafts, an over toilet shelving is an easy organizer you could install. Creating a firm ledge on the wall for your over toilet storage is all you have to do, and you are done, your over-the-toilet storage is fixed, and you will have a ton of extra bathroom storage. Over-toilet organizers are also available in most of the furniture stores near you. An Over Toilet Storage is a piece of storage furniture that keeps your toiletries organized. It could be a cabinet that is excellent for storing stuff that you may not want to be displayed or if you simply want to put things into place whilst dealing with small bathroom space.
Why You Should Have An Over Toilet Storage
When you are short on vanity space and want to make the best of the available space you have at home, an over toilet storage is a great way to create extra room for your toiletries. Or are you simply tired of bending over things that usually fall off your bathroom floor? If you experience either of the two, then this over the toilet hack is a brilliant way to maximize the space available. Over toilet storage is a convenient way for you to be able to consume your bathroom space and be able to organize your necessities. These units are also excellent for rentals since you can temporarily install storage and shelves.
Conclusion
Improving home storage can help minimize clutter and create an attractive room while dealing with limited space. Besides, there is no need to install expensive organizational pieces of furniture. Over toilet storages are examples to prove that maintaining order at home while dealing with small spaces is possible. Over-toilet shelves are the right furniture that will help you organize your toiletries while also making any bathroom more stylish. The list still goes a long way for the best furniture stores that offer over-toilet storage. Over the toilet shelves are simple shelves temporarily or permanently instilled above toilets to save space. Thus, the designs may vary, but the purpose of the shelves is indeed for a great space saver. By reading this, you should already have the sign to get one for your bathroom!
5 Tips To Keep Your Bathroom Clean Longer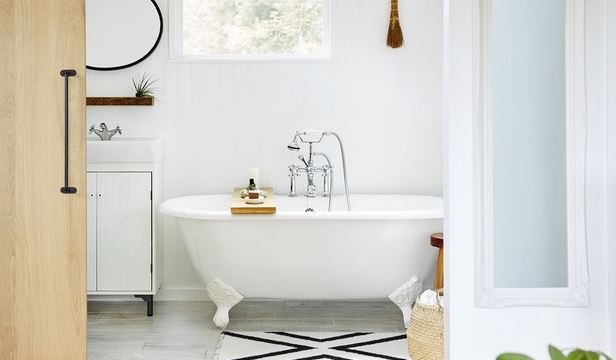 Being one of the most used areas in your home, it's no wonder your bathroom requires cleaning more often than the others.
In general, bathroom cleaning should take place at least once a week—scrubbing the floor and shower walls to remove soap scum and grime buildup, and brushing the toilet to remove germs and bacteria breeding. But, while essential, cleaning the bathroom is probably something you're not fond of.
Good thing, there are habits you can adopt and ways you can do to avoid soiling your bathroom. Continue reading for tips on how to keep your bathroom clean longer so you don't have to scrub it more than you intend to. But, first, let's set the bathroom cleaning guidelines straight.
How Often Should You Clean Your Bathroom?
The frequency with which you should clean your bathroom will depend on how much you use it. For example, if your family of four shares one bathroom, you'll have to clean it more often than someone who lives alone. It mostly depends on your judgment and your collective effort to keep the place pristine throughout the week.
Nevertheless, you would want to do the following at least once a week:
Scrub the toilet
Wipe the sink and mirror
Empty the trash can
Change linens
Organize cabinets
Keep your bathroom fresh and clean longer with these tips:
1. Install bathroom cabinets
Having bathroom cabinets frees up valuable countertop space and helps give the bathroom a cleaner look, overall. From a practical standpoint, it also makes cleaning easier while keeping things easily accessible.
Over the toilet space saver cabinets offer a great place to store essentials like towels, toiletries, and even toilet paper rolls.
2. Keep the bathroom dry
"It's just water." But, the water you leave on the walls and the bathroom floor is the same water that promotes mildew stains, particularly into the grout. Make it a rule that the last one to take a shower wipes the walls, tub, and floor dry.
You can also dry the bathroom by increasing ventilation—open the windows, leave the door open, and don't forget to spread the shower curtain open to dry, too.
3. Keep your cabinet organized
While on the topic of cabinets, you'd also want to keep what's inside organized. Separate your cosmetics, medicines, hair tools, and other toiletries using storage like bins, baskets, clear containers, etc. a clutter-free cabinet instantly makes a bathroom look cleaner.
Regularly check your cabinet for empty bottles, expired products, and items you no longer use. Properly dispose of them.
4. Keep cleaning supplies handy
Store your cleaning supplies preferably in the cabinet under the sink where they are easily accessible. A stash of disinfecting wipes lets you instantly clean watermarks, splatters, and other stains when you see them—keeping them from drying and becoming harder to remove.
Some other cleaning supplies you should have in stock include bleach, surface sprays, brush, and wiping cloths for spot cleaning.
5. Flush every time
You may be a little conflicted about this one: flushing every time avoids yellow stains in the toilet. On the other hand, it wastes a lot of water.
It all boils down to your priorities: flush with every use if you care so much about keeping your toilet clean. But, if you don't mind a little grime to conserve water, just flush every after a few uses. You can always keep the lid closed most of the time.
There are many other ways to take diligent care of your bathroom, some of which involve habits you can form so that you'll clean it less often:
• Brush your teeth face down to avoid sending suds on the mirror and the countertop
• Wash your mats at least once a week
• Skip the bar soap and use liquid soap instead to save your counter from the grimy soap dish
• Use drain covers to keep scum and hair strands from falling through the drains
• Prevent shower curtain buildup by spraying its bottom with bleach cleaners several times a month
• Wipe the counter after doing your makeup to keep stains from building up.
• Keep things off the floor—clothes, towels, etc.
• Install towel bars to hang and dry your towels.
Takeaway
No one has the time to scrub down the bathroom from floor to ceiling on a daily basis. But, taking a few minutes every day to do these things can go a long way in keeping your bathroom fresh and clean in between major cleanings. As it turns out, the mantra clean as you go also applies to this part of your home.
Do you have any other habits that help you maintain a clean bathroom? Let us know by leaving a comment below! Don't forget to share this article online with your friends, too!