3 MUST-HAVE SEAFOODS FROM BUFFETS IN SYDNEY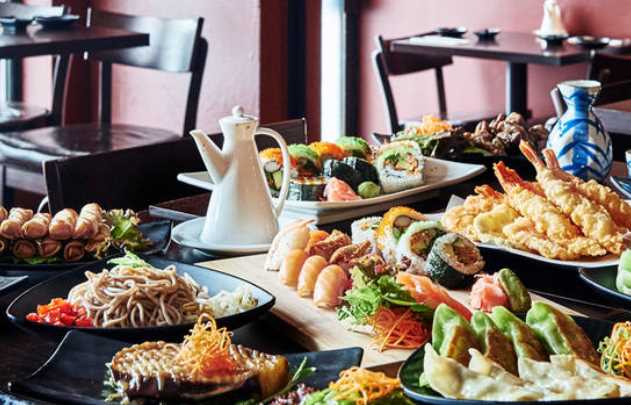 Travelling to Sydney and not trying out seafood from the many restaurants out there is indeed a great loss. Sydney is a paradise for seafood lovers for the wide variety of seafood choices it lays before them. And the best way to taste them all at once is to try out a seafood buffet in Sydney.
This article talks about three must-have seafood from a buffet in and around Sydney.
Pambula Sydney Rock Oysters
Pambula Sydney rock oysters are one of the five types of oysters found and grown in Australia. It is called Saccostrea Glomerata scientifically.
The reason why it is the most loved oyster species all around Australia is its ability to stay fresh for weeks. These kinds of oysters have strong adductor muscles that remain closed when the oyster is out of water. Hence, once they are harvested, they remain fresh for longer periods when kept at an optimum temperature.
Pambula Lake is their natural habitat and oyster cultivation; harvesting in Pambula has been going on for as long as 100 years. Pambula oysters have a luscious and subtle flavour mainly from the fresh waters in which they are grown. The freshwater of the Pambula River and the Yokawa river is ideally complemented by the tidal waters of the pacific ocean to give Pambula Sydney Rock Oysters a distinct taste of its own.
Queensland is a place famous for prawns. Tiger Prawns are one of the four types of prawns available in Queensland. One of the chief distinctive features of tiger prawns is its stripes. This is a great choice for display and hence is used for display in many luxurious hotels and restaurants in and around Sydney.
There are two varieties, groove tiger prawns and brown tiger prawns. Groove tiger prawns aren't endemic to Australia, unlike brown tiger prawns. They have an indo-pacific origin. It is found in Northern Australia, Africa, and Indonesia. Brown tiger prawns, on the other hand, are called common tiger prawns as they are widely available in Australia.
Tiger prawns have a flavour in between that of king and banana prawns. The oiliness of these kinds of prawns is also less. They have a firm texture and are best for soups. Tigers are often served with mayonnaise as both go well in terms of taste and appearance. The stripes turn bright red once cooked, and hence the play of contrast offered by white and red increases the visual appeal.
Moreton Bay Bugs are known by many names in Australia. Bay Lobster, Bayboster, Flathead lobster, and Shovel-nosed lobster are some of its other common names. It is usually wild-caught and is available all through the year.
There are two types of Moreton Bay bugs found in Australia. They are known by the names sand bugs and mudbugs, referring to their natural habitats. Mudbugs bury themselves in mud while sandbags get buried in the sand. Mudbugs have yellowtail fans while the latter has brown tail fans.
The only nutritious part is the tail, and hence choosing medium-sized bugs is better than choosing big ones. A big bug means a bigger head and more waste.
The Moreton bay bugs have a pleasant and rich flavour and have less oiliness. The flesh is of medium firmness. The flesh cannot be recooked but is best for soups and kebabs or casseroles. The bugs go well with vegetables, mayonnaise, lemon, basil, parsley, ginger, and garlic. It can also be eaten with a cold salad.
These are some of the best items one can eat from a seafood buffet in Sydney.
The Stand-Out Waist Trainers Are More Useful Than You Think
Having a toned figure is the dream of everyone. A midsection trainer acts as a modern-day undergarment, which, if worn by you for several hours, will give an alluring curvy physique. Waist trainers help you elevate your thigh as well as abdomen and make your looks presentable.
These waist trainers come up in various designs that look adorable and appear to make you slimmer. It's a good idea to work on reinforcing your core when you're wearing a waist and thigh trainer plus size for the best results. So, here are some intriguing waist slimming garments by shapellx which you can consider:
Neosweat®workout fitness shorts crop tops to suit.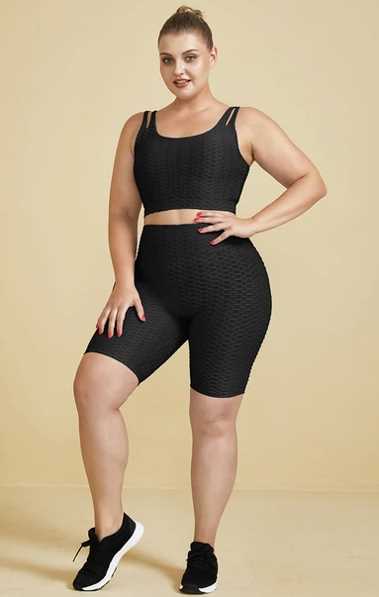 This two-piece body fitness suite is very comfortable to wear. The shorts are put together, with the top having voguish straps in pairs that provide both perfect steadiness of modesty and fashion. It covers your main body parts, such as abdomen, thigh, bust, which helps you sweat. This attractive crop tops suit is made up of an intricately woven pattern that easily absorbs moisture and gives you delightful fitting.
The astounding attribute of having this suit in your wardrobe is as follows: –
The bottom of the suit will give you a slimmer look and give as pretty as a picture shape to your butt.
It also contains an inside pocket so that you can keep your petty stuff.
The color options are also available in this waist and thigh trimmer.
Neosweat®camouflage waist trainer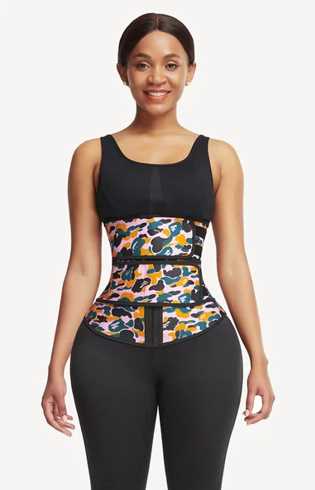 This designer waist trainer will help you in squeezing your abdomen. Working out in this waist trainer is very easy as it gives you a hefty brace to your back, due to which you can easily lift heavyweights, and it also helps you keep your back straight. You can wear it as long as you want, the suit will not bother you at all.
Some phenomenal features about this tummy trainer are as follows: –
The straps of the trainer are solid enough, and also you can adjust the same during working out as per your convenience.
This is the best option of waist training accessories as it is easy to wear because it has tiny loops and flexible hooks.
Neosweat® adjustable sweat belt waist cincher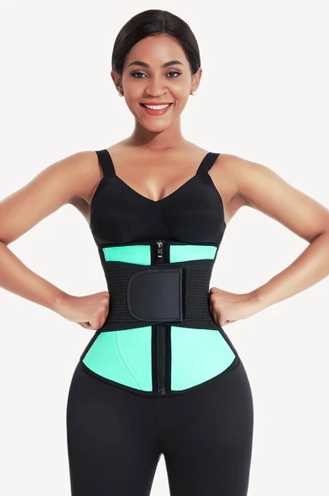 This is one of the most attractive tummy crushers. This sweat belt will help you in reducing your belly stubborn fat while exercising.  This tummy shaper is made up of synthetic rubber, which helps you in sweating faster and also the color is very attractive, one should have this in their wardrobe. This is also available in black color. One of the best attributes about this waist trainer is that you can wear it while exercising, jogging, bouncing, or during household chores. You can wear it very easily. It contains a zip and adjustable belt, which gives you firm tightness.
NeoSweat® Abdominal Binder Lower Waist Support Belt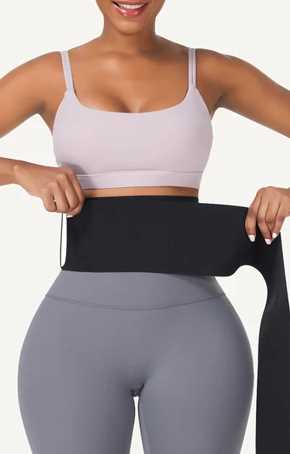 Every Physique, in every shape, is beautiful and praiseworthy of infatuation and appreciation. There's nothing misdeed with setting the target for your torso. But, it's important to know that for blooming and the feasible outcome along with healthy diet and exercise, waist trainers for women are also very useful for getting rapid results that you can shop from shapellx. So, go and check it out best shapewear that suits your requirement.
Learn How to Match Necklaces to Your Dress Necklines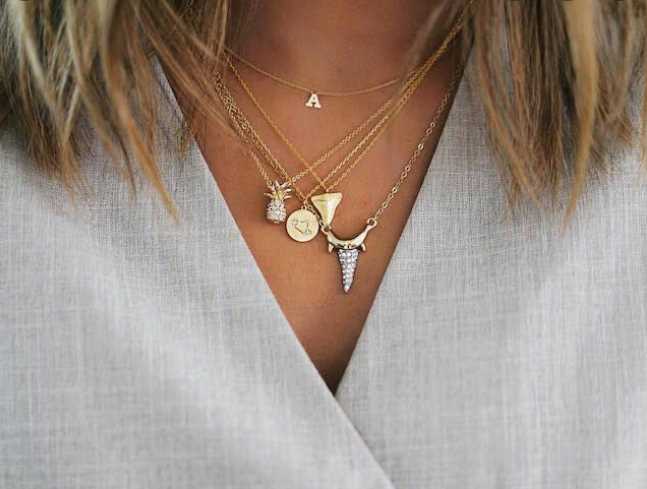 Every outfit that we wear has different necklines, knowing what sort of necklace compliments it can make a world of difference to your overall look. But sometimes we purchase a gorgeous necklace and it just sits in your closet because you don't know what to pair it with. This can be a tricky situation, so let us help you with a guide that will help you figure out how to match necklaces with different necklines to look your fashionable best.
High Neck or Turtle Neckline: When winters set in, we want to keep ourselves warm not really worried about fashion. But does that mean when you wear a high neck t-shirt or a top you deprive yourself of wearing jewelry? The answer is no! A delicate medium-length chain with trendy pendant can add the right amount of bling. You can experiment with the metal color to match it with your outfit without having to compromise on the style factor. To add more sparkle, you can even layer two gold chains studded with gemstones of different lengths. Check out Melorra, a trusted online jeweler, this website showcases some of the most vibrant gemstone lightweight necklaces that are sure to match any outfit color you have in mind.
V-Neck Dresses: Dresses with a narrow v-shape neckline draws attention to your slim neck, so your choice of the necklace also should match this. Wearing a choker or round chain will create a mismatch, rather opt for a multi-layered necklace that tapers down in a triangular shape. You can also sport a long chain necklace and a big pendant of a geometrical shape that sits right above the V-cut.
Off-Shoulder Neckline: Off-shoulder neckline highlights your collar bone and this allows you to accentuate that feature by choosing a necklace that sits right on your collar bone, like a choker that is embellished with diamonds, and pearls. Another option is to wear is a short delicate chain with a pendant or a princess necklace that highlights your well-shaped shoulders. Even asymmetrical necklaces complement well this sort of strapless dress. Remove the hassle of traveling to a jewelry store, and walking to different floors to explore the latest designs when you can browse them online on Melorra website. You can visit this page from the comfort of your four walls, and get swept away with the stunning choices they have to offer.
Square Neckline: Whether it is a kurti or a dress with a square neckline, an angular necklace with a pendant is the choice you should make. It renders a hint of elegance and sophistication to your dress. Mind the length of the necklace, too long ones will rob away the look of it. A short necklace that falls just below the collar bone also looks nice with this sort of necklines.
Boat Neckline: Boat neck dresses or blouses have a neckline that sits perfectly on the shoulders. Multi-stranded long bead or pearl necklace adds charm and glamour to the outfit.
Save these guidelines next time you find yourself in a fix while trying to match the right necklace with your outfit.
How to Choose the Best Bike for Your Body Type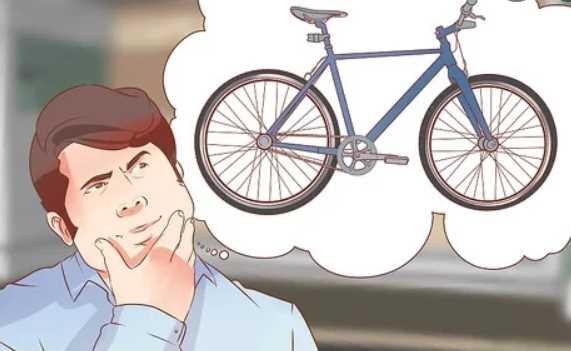 How long you ride and how much fun you have doing it depends significantly on the bike that you choose. There are several determining factors that you must consider when selecting a bike, including fit, type, performance, and cost. Since the sheer number of choices can be overwhelming, start with learning how to choose a bike that works for your body type before moving on to the specifics.
Determining Your Body Type
There are many ways to determine your body type in this world. For bikes, body type is based on several factors. Height, inseam, and torso are the most important factors when choosing a bike based on body type.
Finding the correct frame for your body type is the first step in ensuring that you have the best fitting bike you can get. Bikes for tall people will not meet the needs of petite people. To determine your height, stand against a wall with shoes on and measure from the crown of your head down to the floor. This measurement is more helpful with a partner, but you can also make a small mark on the wall right at the tip of your head and then use a tape measurer. Your height will help you determine if you are looking for a small, medium, or large bike, generally the standard measurements for most bikes.
Once you have your height, you should have a general idea of what size bike you seek. Next, you need to measure your inseam. Your inseam is the length of measurement taken from the bottom of your ankle up to the crotch. This measurement is easy to do on your own. You need your inseam measurement to determine the correct standover height for your body type. Being able to straddle the bike with your feet on the floor, with whatever shoes you will be cycling in on your feet, is the first indicator that the bike is suitable for your body type. You are looking for a 1-2 inch clearance between the top of your inseam and the bike's top tube for road and mountain bikes.
The torso is not just a straightforward measurement. As such, you may want to consult a professional for additional sizing information. You will first need to ensure that you can reach the handlebars without straining or compacting your body. You should be somewhere from a 45 to a 90-degree angle when riding comfortably on any bike. Depending on your shoulder width, you may also want to consider broader or more compact frames that better suit your needs. If you are looking for a kid's or women's bike, there are also specially made frames with more compact measurements to meet the needs of petite people.
What Bike Is Best for Your Body
No matter your body type, the best bike will be the one that fits you and feels good while you are riding it. To have a proper fit, you will need to measure your height, inseam, and torso against the bike. Your legs will need to extend almost 90% in a full pedal, and the seat should be comfortable for you to sit on for considerable distances. Depending on your purpose, you may also find that certain bikes are more comfortable than others. A womens electric bike is the best choice for a night out riding around the city, while a mountain bike is better for off-road trails in the park. So, after you determine your measurements, be sure of the primary objective the bike will serve in your life.
Find the best bike for your body type by making just a few small measurements before making a purchase that will improve your health and wellbeing in a big way.