3D Printers in Military: Rapid Manufacturing and Repair of Parts
This is a guest contribution by Egor Driagin, CMO at Top3DGroup
The arrival of 3D printing technology resulted in more questions than answers for the experts and enthusiasts alike. While they are theorizing about printing everyday items on the Moon surface, the American military found ways to utilize 3D printing in real-life conditions. The American military is using portable Expeditionary Lab Mobile (ELM) solutions in conjunction with 3D printers.
The main goals for ELM are: manufacturing single-use tools for military usage and repairing existing equipment. The latter is very important since field usage of equipment often requires some refining. A good example would be a pocket flashlight. They are often defective, which means they can easily break or cause unwanted situations.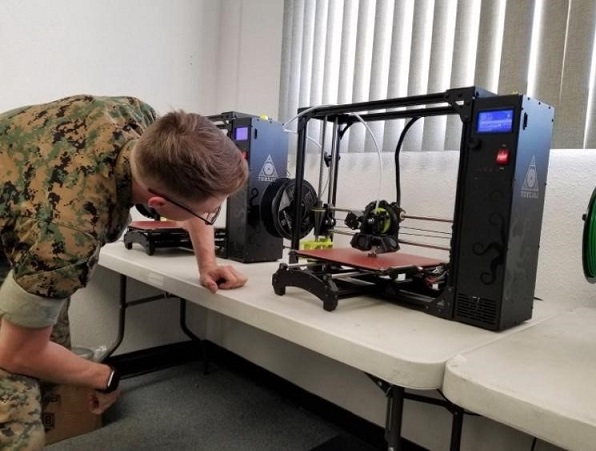 Using 3D Printers on a Battlefield
Being placed in a pocket of a soldier, the flashlight with a defective switch can be turned accidentally turned on and give out its location when it's least expected. ELM can easily fix the problem of a defective switch. There's no need to send them back to the US since the switches can be 3D printed on site.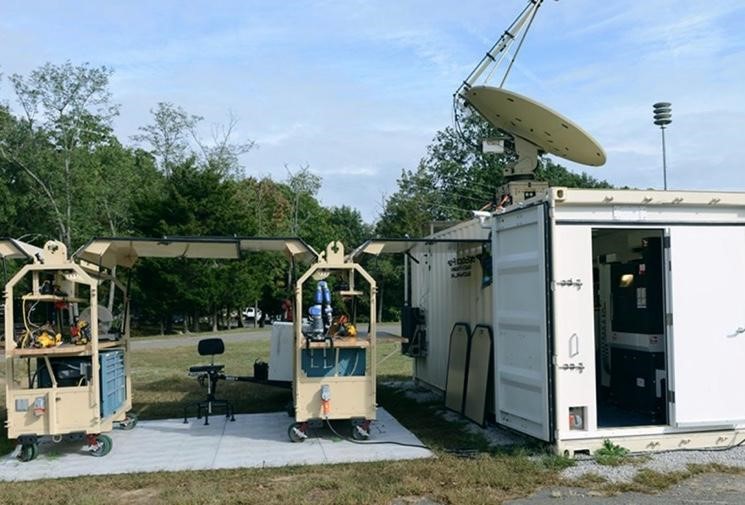 Another example would be a real case when a mine detector sent to Iraq had defects that caused its working time to be reduced threefold. This made the soldiers (that were already on a complicated mission) take several additional heavy batteries with them. Using ELM allowed them to create an adapter that made using other batteries possible and extended the battery life of a device to 9 hours.
ELM Repair Kit with a 3D Printer and Communication System
Expeditionary Lab Mobile is a shipping container (sized 20 x 8 ft or 6,1×2.4 m) of a standard type. A 3D printer and CNC machines can be found inside, the latter of which is used to manufacture complex aluminum and steel parts.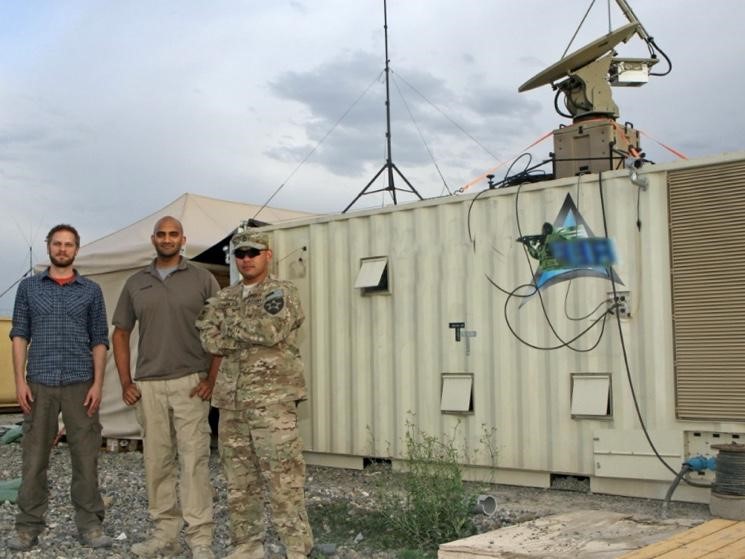 Apart from that, there is also a set of rather traditional tools, such as a cutter, welding machine, router, circular saw, sawzall, and a jigsaw.
ELM includes satellite communication equipment that is important for video conferences. The engineers and officials are supposed to partake in them to control the works when needed. It's planned that each lab will include 2 engineers and all of them will be connected as a network.
Nevertheless, such a 3D printing system is expensive and costs around $2.8 million. First ELMы will be tested in the Middle East, and if successful, they will be implemented for civil purposes as well. They can be very useful during natural or man-made disasters.
U Bolt Clamp: Everything You Need to Know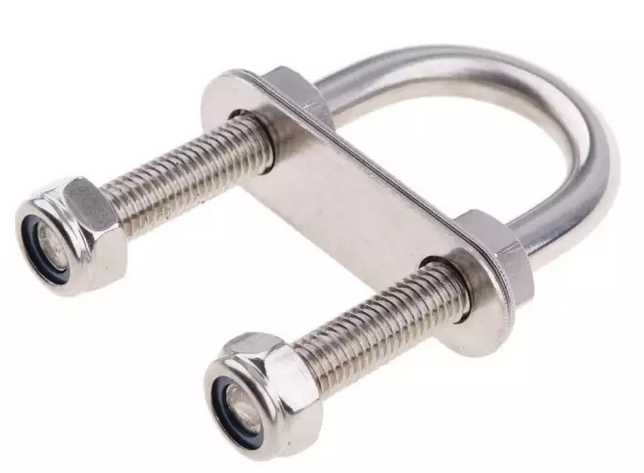 It is quick and easy to attach a variety of diameters and types of pipelines with U-bolts with metric threads. U bolt clamps are used to hold steel cantilevers or hollow profiles in place. The U-bolt clamp for pipes may seem straightforward. In the end, they are only bends in steel, aren't they? The simple U-bolt clamp can make the difference between a solid structure and an on-site disaster.
Despite these important restraints, it is easy to overlook them, but we are here to deliver the must-know information. There are only a few things to be said about these small workhorses.
The following article explains how U-bolts work and how they make a difference.
What Is an U-Bolt Clamp?
The basic idea of a U-bolt is that it is a bolt that has been bent into the shape of a U. It is a curved bolt that has two threads on its ends. Due to its curved shape, the bolt fits easily around pipes or tubing. Generally, U-bolts can secure tubes or piping to a support as well as act as a restraint.
When to Use an U-Bolt Clamp?
When it comes to construction, U-bolts can do it all. They can be used for a variety of applications, but they are particularly useful for piping solutions. In piping, they're commonly used as follows:
Tube and pipe restraint can be achieved with U-bolt clamps. As a result, the pipes don't move around, bang into other structures, or wear out. Nevertheless, restraint goes beyond just pinning the pipes down. When a pipe is simply held in place, pressure can concentrate at the most critical points, leading to corrosion. In this position, the U-bolt clamp for the pipe can control movement without concentrating vibrations.
When shipping pipe hanger clamps may also prove useful for keeping them secure. By adding a buffer between the pipes and other metals, the U-bolt clamps can prevent the pipes from jumping and breaking.
A major U bolt use is to hang pipes. Incorrect installation can cause corrosion and falling objects, since gravity can be very hard on piping. A U-bolt can be used to secure pipes and to limit vibrations by fixing them to an overhead structure.
Types of U Bolts
There are all kinds of materials that can be used for U-bolts. Yet they are typically made of noncorrosive metals that are durable. U-bolts are composed of the following materials:
Plain carbon steel
304 and 316 stainless steel
In addition to these elements, manufacturers may apply protective coatings. Even more corrosion protection is provided by these finishes. U-bolt clamps are commonly coated with the following:
Electroplating adds zinc to metal by coating it with electricity. Generally, indoor applications will require a thin layer.
A deeper coating is offered by hot-dip galvanization because it adds zinc. To create the bond, manufacturers dip bolts in molten zinc, making the coating especially useful in environments that are highly corrosive, such as in coastal areas.
Fluoropolymer coatings consist of a mixture of corrosion-resistant elements. Cold and heat can be absorbed by the coating without cracking.
Despite varying sizes, U-bolts are usually matched to the pipes they are meant to secure. The diameter of bolts can range from a quarter inch to a full inch. Pipes as wide as 30 inches can be held on these clamps. Make sure the space between the U-bolt and the nut matches its specification if you intend to use it as a guide. U Bolt clamps can be of great help if you want to secure the pipe  to utmost perfection.
Traffico Di Rete Eccessivo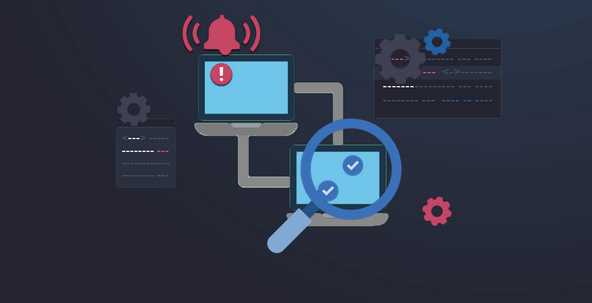 Traffico Di Rete Eccessivo >> Microsoft with the new Windows 10 has seen fit to lighten the traffic of its servers to distribute updates that could not fully manage the load of requests.
How did he do this magic?

Traffico Di Rete Eccessivo
At our expense of course, in fact the operating system contains a lot of hidden features among which in a submenu of the submenu we find an item that says and as previous like Traffico Anomalo Google has similarity.
Updates from multiple locations, under the main item "Choose how to deliver updates" or if we do not find the menu we go to the search bar and write "Windows Update" and then select the item "Advanced Windows Update Options" and scroll down where we find the item "Choose how to deliver updates"
If we want to be bad and save our internet bandwidth We deactivate the function
More Choices Retrieve updates from Microsoft and download updates from and send updates to
PC in the local network
PC in the local network and on the Internet
The last choice means that our computer once updated becomes part of the update distribution network, therefore a Torrent node, a system used by Mum Microsoft to distribute the load.
Below the two images.
So if you have a laboratory or a classroom equipped with all Windows 10 workstations, remember to disable this option or at least set it only on Local LAN.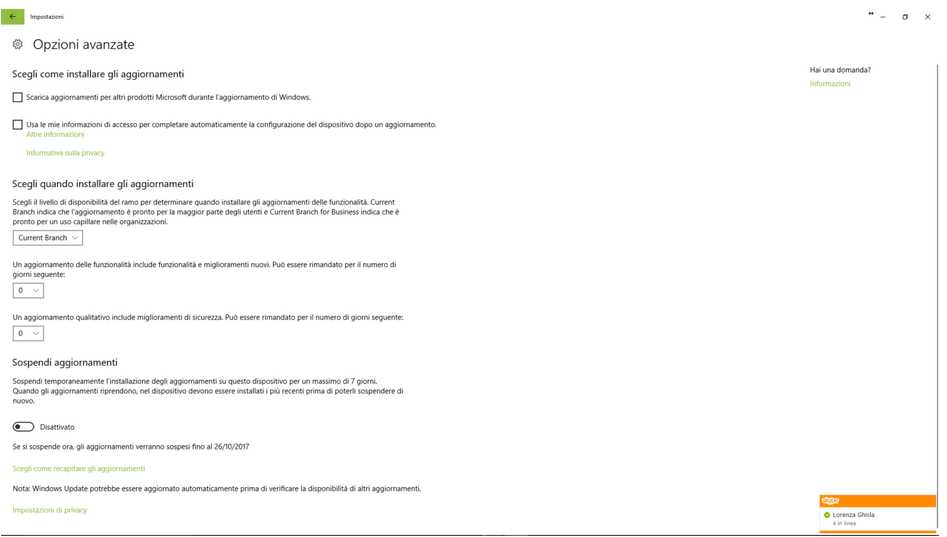 Beverage Design: How to Create an Eye-Catching Drink Label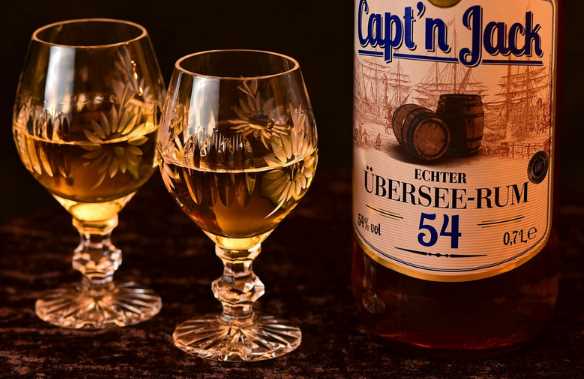 When it comes to branding, proper label design is one of the most important attributes to focus on. After all, you can't expect people to choose your product if it isn't eye-catching.
For those who are looking to create a unique and different beverage design, we've got all the tips you need to keep in mind. Let's take a look at some of the most useful information you should know.
The Proper Colors Are Crucial
As you might guess, the colors you choose for your label will play a large role when it comes to how captivating your label is.
For those who are unaware, certain colors are inherently associated with different emotions. For example, the colors red and yellow often remind people of feeling energetic, hungry, or passionate.
After all, there's a reason why many fast-food chains use these colors in their logos. Think McDonald's, Wendy's, Burger King, etc.
The colors of your beverage label should also align with your brand. If the drink you sell is something that is meant to be enjoyed on a hot day by the pool, you may want to consider a tropical color palette.
If you sell an energy drink, the colors you choose should reflect this intensity.
It's important to know that this is not a hard and fast rule. For instance, it's completely appropriate in many cases to use black as the primary color for an energy drink.
After all, the brand Monster seems to do just fine. As long as your color palette accurately represents your brand, you shouldn't encounter any issues.
Choose the Right Label Shape
Interestingly, many beverage companies neglect how important the shape of their label is during design. When implemented correctly, this is a great way to add a bit of character.
For example, many brands opt for the basic design of straight lines and rectangular shapes. Unfortunately, this won't do much to help you set yourself apart from your competition.
You can get fairly creative when it comes to label shape, as the possibilities are virtually endless regarding custom shape design.
It's not always easy to create the ideal design for your product, though. For those who need a bit of extra help with their drink label design, you can visit this resource to learn more.
Font Choice Matters
The font you choose says a lot about your company. Whether your customers realize it or not, they will develop a preconceived notion about your product based on your font choice.
For instance, let's take a look at a brand like Brawny. This paper towel company markets itself as being much stronger and more absorbent than its competitors. So, it uses a very thick, rigid, bold font.
Now, imagine if Brawny used a thin, wispy font similar to what you would find on makeup products. It wouldn't give off the same impression, and it may actually reduce sales numbers.
For this reason, choosing the correct font is essential.
Consider the overall atmosphere around your brand. As previously mentioned, a beverage that is meant to help people relax will need to be marketed in a different way than one that gives someone energy.
Don't Neglect the Type of Label Material
Label material can make or break whether or not you reach your sales goals. This is simply due to the fact that packaging is a crucial attribute when it comes to establishing a quality product.
Imagine if Apple products came in thin, generic brown boxes, for example. They likely would not sell quite as well as they do now.
When choosing a label material, you also need to consider the type of material that you use for your beverage container. Companies that use glass bottles might want to choose a label that has a clear backing.
This will allow more of the actual drink to be visible through the bottle itself.
If you choose to use plastic, aluminum, etc., labels with a matte finish are more favorable. This comes with the added benefit of having increased durability.
This factor matters since bottles that people carry around with them outdoors need to endure the elements.
For luxury beverages, consider a foil or metallic label. These are typically seen on alcoholic or high-end drinks, and they go a long way when establishing the quality of the product.
Stand Out From Your Competition
Sometimes, you need to add a bit of extra care in order to stand out from the competition. This often comes in the form of special touches to make your beverage more recognizable.
One of the most popular options is a cutout label. This allows you to sufficiently label your product while also providing a way for your customers to see the beverage inside.
You can also take typography to the next level through embossing.
As with creating custom shapes for labels, there are endless personal touches that you can add to beverages. So, take some time to figure out which ones align with your overall goals.
Creating an Eye-Catching Drink Label Doesn't Have to Be Complicated
The above info will make this process much easier than you anticipated. Afterward, you'll find that the label you develop is eye-catching enough to boost your overall sales.
Want to learn more useful info that can help you out in the future? Be sure to check out the rest of our blog.