3 Canvas Print Ideas to Spruce Up Your Home
The way we decorate our homes says a lot about our personality. You want to give your guests a little glimpse of who you are and what you're interested in, but it is also important to create a comfortable and productive living space where you can relax and unwind at the end of the day.
When it comes to wall art, canvas prints are a great way to show off your taste and upgrade the feel of any room with very little effort. Here are a few simple ways that you can use canvases to showcase your unique style!
Your Very Own Art Gallery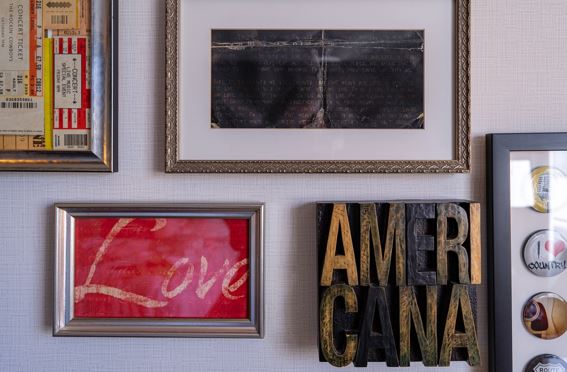 Because canvas are so versatile, it's easy to create a gallery wall nearly anywhere in your home. Selecting a variety of canvas sizes, photo prints, and even mediums to create an eye-catching collage is the perfect way to bring a room together. If you've got a favorite photo or work of art, you can create a gallery around this piece while complementing the colors included in the rest of your theme. This is one way to help bring large photos like a family portrait into the rest of your decor or show off those photo gifts you haven't been able to find a place for.
An easy way to ensure that all of the pieces in your personal gallery go well together is by tying them together with similar or complementing frame options. Wooden frames in similar shades or metal frames that match subtle colors in your canvas will do this nicely without taking away the attention from the prints themselves. But if elegant chaos is your style, feel free to mix up the canvas material and the frames!
The Bold and the Beautiful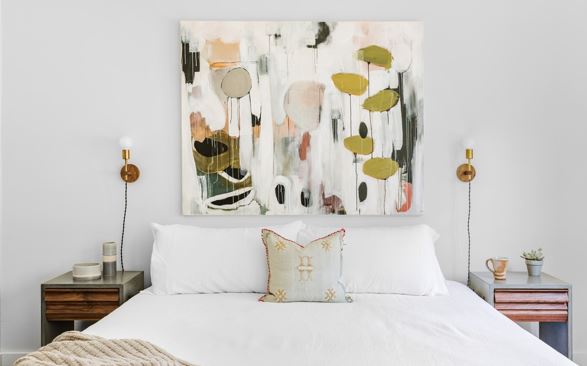 Here's your scenario: Your first post-quarantine outing was to a pop-up art show held by a group of local artists in your neighborhood. You found the perfect piece—it spoke to you right away, and you kept circling back to it even though it was so big that you weren't sure it would fit into the backseat of your car. At the end of the night, you decided to just go for it and buy the piece; if it stood out to you all night, there had to be a reason. But now, you have to figure out just how and where to showcase this large canvas.
Sometimes, an oversized canvas print is actually just the right size—you just don't know it yet. Even if you have a small living space, using a few large or oversized pieces instead of many smaller pieces creates a minimalistic look while still making a big visual impact. Using a large print means you don't need to do a whole lot of decorating around it because you want the focus to be on the single image rather than the details around it, which means less work for you and a less cluttered-looking living space.
Shelf Space Upgrade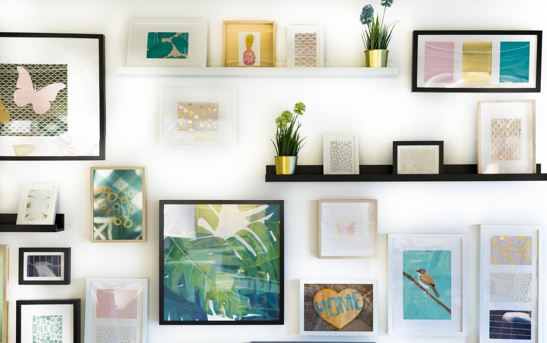 If you've got most of your decor sorted out and you're looking for a few things to tie the room together, make the most of your shelf space by adding a few canvas pieces here and there. Places like bookshelves, mantles, and hanging shelves are great for adding canvas photo prints of your favorite memories in a variety of sizes without taking away from any overall theme you might have throughout the rest of the room. Ordering custom canvas prints of your own photos is so simple, and there are so many options out there to help you find an affordable price!
Utilizing shelf space is also a way to mix mediums, so don't feel like you're only limited to canvas and family portraits. Art prints, professional photographs, and catchy signs can all be great additions to your self space when placed correctly.
Creating a comfortable, functional living space is key to ensuring that your home is a relaxing escape from your busy life. Choose decor that suits your lifestyle and complements your tastes, then kick back and enjoy your newly upgraded home!
Are DIY Home Improvement Projects Actually Cheaper?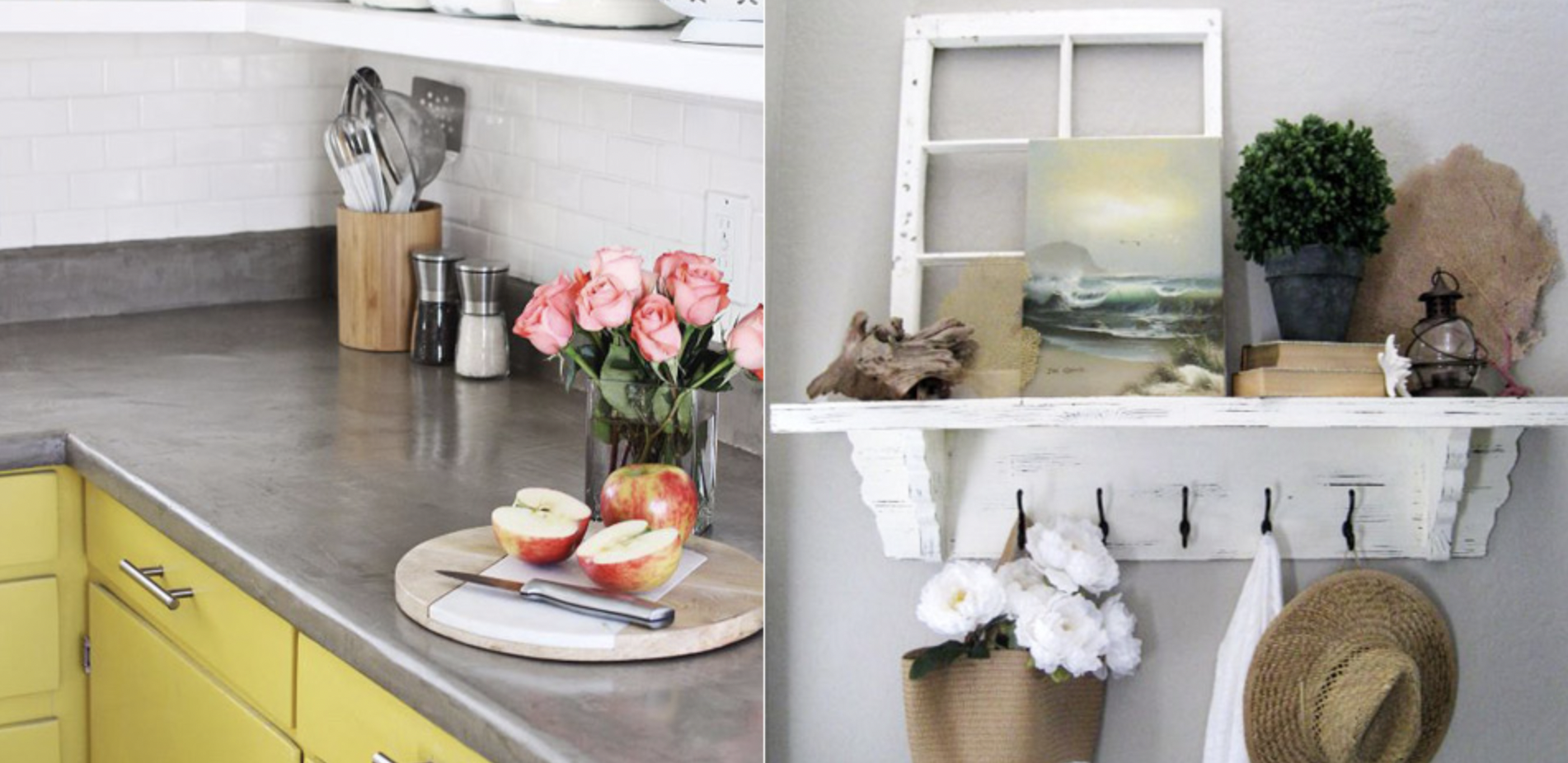 Home repairs and upgrades can be expensive, but much of the cost of home improvement comes from labor expenses. In an attempt to save money, you might consider doing things yourself, but is it really less expensive to take the DIY approach? The truth is that there are pros and cons to both options, and each project has different needs that may be served better by one approach or the other. If you're wondering whether you can save money by doing it yourself, below are some considerations:
The Cost Of Parts
As stated, the bulk of the cost of home improvement is often the expense of labor, but parts and materials do factor into the total amount you need to spend. Contractors have to source parts, and they may choose to adjust their fees accordingly. When you need things like annealed spring steel washers, finishing nails, paint or other materials, sourcing these things yourself may save a bit of cash. In fact, when it comes to spring washers manufacturers, you can contact Superior Washer & Gasket when you need spring washers in bulk or when you want to conveniently order online to have parts delivered to your home.
The Cost Of Labor And Mistakes
Labor costs can vary depending on the type of project, the size of the project, the complexities involved and more. The experience level of the service provider can come into play as well. A contractor who has several years of experience in home improvement may charge less than someone who has an established reputation that spans decades. This doesn't mean that the workmanship of the contractor with fewer years of experience will be lesser, but it does mean you can usually expect to pay more for experience.
The thing to consider when factoring labor costs into your project is that the amount you spend on labor doesn't just equate to time spent – it can actually affect the amount you may spend in the future. If you tackle a DIY project without the knowledge of an expert, you run the risk of making mistakes that will need to be fixed. Additionally, improperly completing a home improvement project could lead to damage in your home that then requires repairs and the help of an expert. Essentially, you're not saving money, and in fact, you're spending more money than you would have if you had just called an expert in the first place.
The Cost Of Inspection And Code Compliance
Something else to consider is the costs of inspection and code compliance. These costs often go overlooked since they aren't often an immediate expense, but they can become issues in the future. Virtually all states and municipalities have building codes that require things be done a certain way when it comes to repairs and construction. If you don't complete home repairs and maintenance according to these codes, you might have to re-do things later should you choose to sell the property.
When you hire a licensed expert, they will typically complete work according to the building codes that pertain to your specific area. On top of that, the contractor may have some type of liability if something needs to be corrected in the future to become code-compliant. You are encouraged to discuss this with your contractor prior to work should you choose not to pursue the DIY route.
Does DIY Save Money? It Depends
Given all of the above, your ability to save money by doing it yourself really depends on several important factors. Many smaller jobs can be completed on your own for a lot less money compared to hiring a contractor, but for larger jobs that require a lot of skill and involve major changes, hiring an expert is likely the way to go.
5 Home Appliance Maintenance Tips to Make Life Easier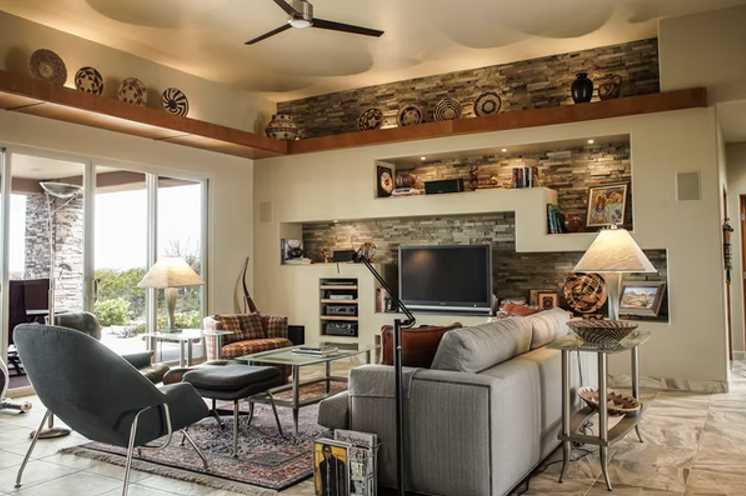 Home appliances are an expensive investment and crucial in making your life easier. However, these appliances may break down or fail to function if not taken care of properly. Failing to maintain your home appliances also leads to costly repairs and replacements.  Read on for tips to maintain your home appliances to make life easier and prolong their life.
1.   Clean the refrigerator and freezer
The fridge is often the most overlooked kitchen appliance when doing routine cleaning. Failing to clean the refrigerator leads to bacteria buildup, which results in cross-contamination. To clean and maintain your fridge, you should:
Vacuum your fridge's coils to remove debris, dirt, and dust particles and scrub off the door gaskets
Stock your freezer and refrigerator, as he fridge runs more efficiently when it's fully stocked as the stored food has a thermal mass which helps to eliminate warm air
Eliminate ice build-ups in the freezer
Reposition the refrigerator to allow more airflow
Ensure that the freezer and refrigerator are running at proper temperatures to improve efficiency
2.   Avoid overloading the dryers and washers
While home appliances such as dryers and washing machines make your life easier, they also contribute to increased water and electricity bills. To cut down your energy bills, you may overload these appliances, which is a bad idea. Overloading your dryers and washing machine leads to extensive damage to belts, motors, and other moving parts. Check out this appliance help blog to learn more.
3.   Keep the microwave fresh
Prolong the life of your microwave by keeping it clean and fresh. To clean your microwave, you should add two cups of water and two tablespoons of white vinegar into a microwave-safe container.
Next, put the bowl or cup in the microwave and set it for three to five minutes. After the set time elapses, leave the door shut to allow steam to clean the unit. Finally, remove the bowl and use a damp towel to wipe the microwave's interior.
4.   Clean air conditioner filters
Your air conditioner filters are vulnerable to dirt and dust particles which often clog them. Clogged filters restrict airflow reducing your appliance's lifespan and energy efficiency. As such, you should clean your air conditioner filters weekly. To clean the filters, vacuum them to remove as many dirt particles as possible. You could also replace the unit if your air conditioner uses a disposable filter.
5.   Keep the garbage disposal sharp
Keeping the garbage disposal blades sharp ensures that the unit functions properly, therefore preventing sink blockage. To sharpen the garbage disposal unit, you should freeze a mixture of water and lemon slices in an ice tray. When frozen, drop the ice cubes in the unit and switch the disposal on. This will not only sharpen your garbage disposal's blades but also eliminate foul odor.
Endnote
Home appliance maintenance is the key to saving money on repair and replacements and prolonging the unit's life. You should regularly clean your refrigerator, air conditioner filters, and microwave and sharpen your garbage disposal blades, among other home appliance maintenance hacks. You could also hire a professional contractor for quality appliance maintenance.
Use Green Neon Lights Signs For Home Decor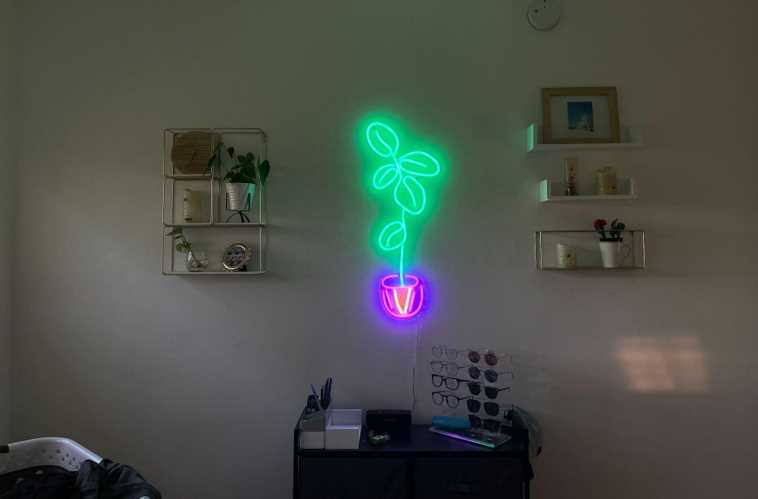 You can discover various types of lighting products like neon signs, lamps, and wall lights. A neon sign is a best-selling unique type of light people use for their homes. You can also use a LED neon lamp in your room. It is easy to hang or mount a neon sign in your room. People also use different categories of neon signs for their business or event like a party, weddings, and more.
Nowadays, people are buying a green neon sign from a neon shop site. In this article, we will talk about neon light green aesthetic sign to use for a space like home:
About Green Neon Lights Signs For Homes
It is best to use a green neon sign to create an excellent environment at your home. It will add brightness and style to any room. You can install a bright green aesthetic neon sign in your bedroom, living room, man cave, kids room, and more. Use a LED neon sign of green color for home decor.
You can use a green neon sign of a plant shape or your favorite quote. Cool neon signs green of dollar shape is also perfect to use in your room.
Customize Green Aesthetic Neon Sign For Homes
You can also design a green neon sign through customization. You can pick any design, and size for the custom green neon sign. Many online neon shops accept custom orders for LED aesthetic green neon signs. By using their customization tool, you can create a green aesthetic customized sign in less time. You can create a custom green aesthetic neon sign of your name or any inspirational quote.
You can share your ideas with an online LED neon sign maker and they will create a green aesthetic neon sign in your way.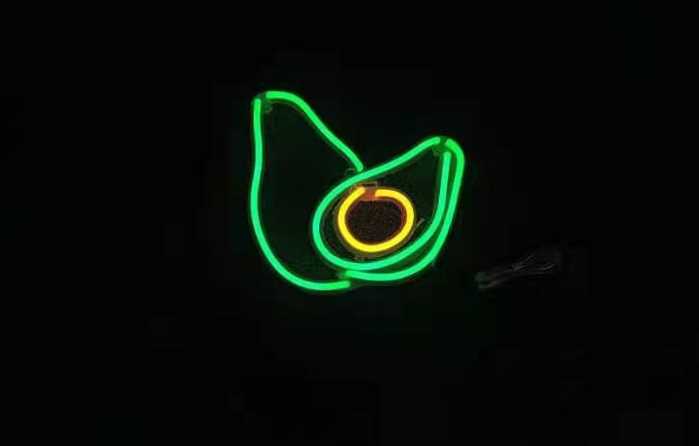 Reasons To Use Green Neon Sign For Homes
There are many reasons to use a LED green neon sign for home decor. Below, you can check the benefits of this neon sign:
A LED green neon sign is best to use due to its aesthetic visual appeal. It is perfect for making your dull room beautiful. It will add lights and color to any room in your home. It will look like art on the wall of your room.
LED green neon signs save more energy than glass neon signs. LED green signs do not consume much electricity to glow. These neon signs are also eco-friendly to use. So, LED green neon signs are best to use as they will not raise your electricity bill.
You can hang or mount a green neon sign in your room easily. These neon signs have acrylic backing and pre-drilled holes. So, you can place a green aesthetic sign anywhere you like. The installation of green neon signs is easy as they are lightweight as well.
LED green neon signs do not contain toxic gases like glass neon signs. They are safe to use and touch as they are also not easily breakable. It is the reason you can install this neon sign in your kids' room. With green neon signs, you do not have to worry about safety.
LED green neon sign will give you a lifespan of 60000+ hours. It will provide a longer lifespan than traditional neon signs. There is no headache with its maintenance or replacement as it will last long in your home.
Cost Of Green Aesthetic Neon Signs
People can afford the green aesthetic neon signs for their homes. It is cheaper than the traditional glass neon signs. It is affordable as it will not raise your electricity bill and, you do not need to worry about its maintenance. You will get the green neon signs from online neon shops at an affordable price.
These sites also create customized green aesthetic neon signs at reasonable prices. The cost of the green aesthetic neon sign depends on the factors such as its size, design, materials, and more.
Delivery Of Green Neon Signs For Homes
Online neon shops deliver the green neon room signs in all over the world. You can purchase neon products through these sites by sitting in your home and, it takes around 2-3 weeks for the standard delivery of green neon signs. This time includes the production time and then shipping time.
Now, you do not need to go anywhere and, you will get the delivery of green aesthetic neon signs at your doorstep. So purchase these neon signs online.